Welcome to Ezra Stiles College!
Welcome to the Herd, welcome home.
---
Welcome Ezra Stiles 2020! Welcome New Stilesians!
Congratulations! The sorting hat has placed you in the college of moose, vikings, wood-brick pizza, artists, muralists, international students, athletes and IM superstars … and many of the best people on campus. We have a great history, and an awesome building with beautiful facilities, and you might be interested to see the online list of some of our more prominent alums. We can't wait to meet you in August, and we hope you'll bring your energy and excitement to this place when you arrive. In the meantime, explore this website, our Facebook pages (here and here), and the freshman counselor page. If you're thinking about sending packages to New Haven, you'll find information about mailing instructions at the Yale College site and our Ezra Stiles site.
I'll see you when you move into Lawrance Hall on Old Campus on August 26th if not before. Please plan on joining us that afternoon at 4pm for a welcome reception in the Ezra Stiles Head of College's House — and bring any family members or friends who are in town. We are eager to meet them, as well!
Some quick requests: Please activate your NetID and start checking your Yale e-mail account since you will receive important messages over the summer. You will find important deadlines and other information at http://yalecollege.yale.edu/new-students/welcome-yale
One Love, One Moose!!!
Stephen Pitti
Head of Ezra Stiles
---
Stiles Welcomes Dean Parndigamage

---
Medieval Knight 2016~
Stilesians from all corners of campus came together to don Viking helmets, wield their shields, and fearlessly raid the lesser colleges of Trumbull, Berkeley, and Jonathan Edwards! Ezra Stiles is, without a doubt, the greatest college of them all. And anyone who says otherwise shall have to answer to the Order of the Moose when we raid again, our next Medieval Knight…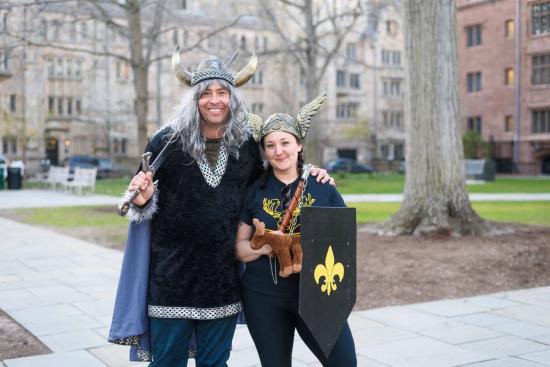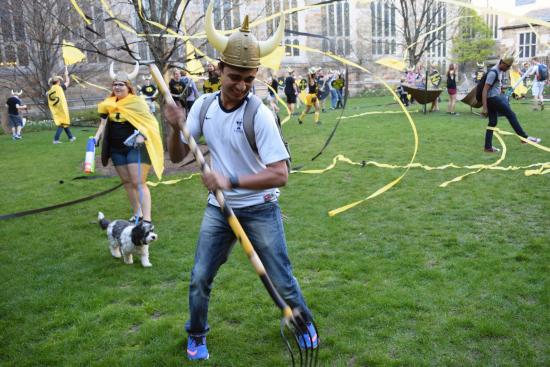 ---
Professor Pitti with Froco Mustafa Malik at a recent Fellow's Dinner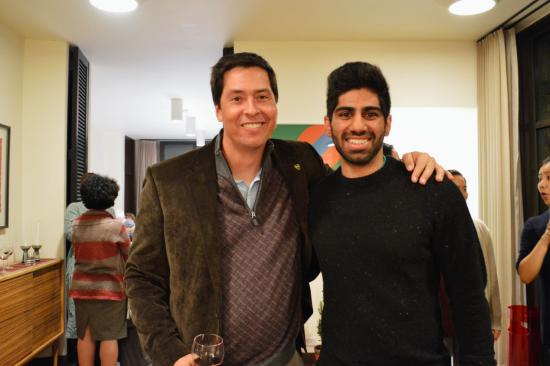 Tom Gurin, Kwasi Enin and Vikram Dhawan celebrating Kwasi's selection for Ebony Magazine's Power 100 List
Our stunning SAC members at the first Ezra Gala! Thank you for putting on the best dance any of the residential colleges have ever seen! Who says Meese can't get classy?

It's time to D~A~N~C~E! Some of the herd at their final Salsa dancing lesson with Jeff Hudson, and a surprise visit from the Moose!
It's fall (a Moose's favorite time of year)! Thanks to SAC for all the autumnal fun…
Keep your eyes out for Moose in Canoes around East Rock!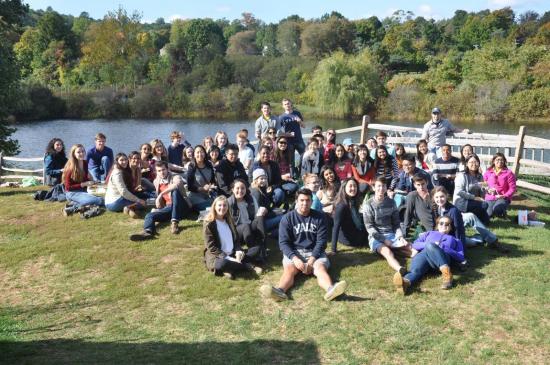 Fact: Moose love apples. So why not have an apple-picking expedition? Thanks to SAC for an awesome day of fresh apples and other goodies!
Rise Unveiling in the Common Room