Welcome to Ezra Stiles College!
Welcome to the Herd, welcome home.
---
A new dean for Ezra Stiles
A note from Dean Holloway:
I am pleased to report that, after consulting with Master Pitti, I have recently appointed Ms. Michelle Morgan to be the interim Dean of Ezra Stiles College. Ms. Morgan earned her Bachelor of Art degree, summa cum laude, in Arts & Humanities, with a minor in Women¹s Studies, from Lewiston-Auburn College of the University of Southern Maine. She has earned Master¹s degrees in American Studies from both the University of Southern Maine (Portland) and from Yale, where she is currently a Ph.D. candidate in American Studies. Her dissertation is entitled Material Possessions: Producing Race and Empire in the U.S., 1820-1917.
Yale College students are hardly new to Ms. Morgan, who has served as a teaching fellow for several American Studies courses and as an instructor of junior seminars in the same program: Visual Cultures of U.S. Imperialism, and Wilderness in the North American Imagination. The author of two published articles, she has presented papers at a wide array of professional conferences and symposia. She has been the recipient of numerous scholarships and fellowships, and has had her poetry twice nominated for the Pushcart Prize.
Born and raised in rural Maine, Ms. Morgan is an enthusiastic biker and hiker, with plans to expand into running half-marathons. A self-described music fanatic, she has a background in dance, art and writing; she very much looks forward to attending the readings, performances and exhibits of Ezra Stiles students. Shortly after she begins her decanal duties on February 1, she will move into the Dean¹s suite with her partner Jaime Myers-McPhail, a community organizer with New Haven Rising; her 16-year-old son Ezra (yes, Ezra!), who is a student at Common Ground High School here in New Haven; and Lola, their calico cat. I am confident that Ms. Morgan will make significant and positive contributions to the life of the college, and Master Pitti and I hope you will join us in welcoming her to Ezra Stiles.
Master

Pitti

with

Froco

Mustafa

Malik

at a recent Fellow's Dinner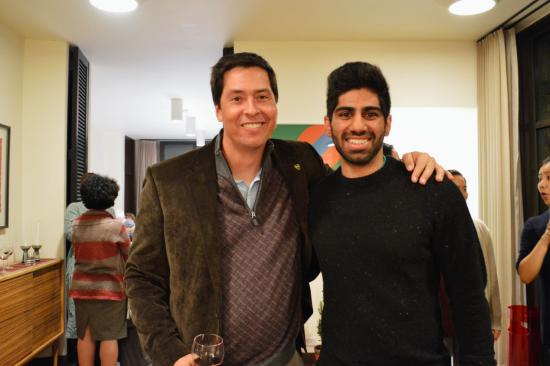 Tom Gurin, Kwasi Enin and Vikram Dhawan celebrating Kwasi's selection for Ebony Magazine's Power 100 List
Our stunning SAC members at the first Ezra Gala! Thank you for putting on the best dance any of the residential colleges have ever seen! Who says Meese can't get classy?

It's time to D~A~N~C~E! Some of the herd at their final Salsa dancing lesson with Jeff Hudson, and a surprise visit from the Moose!
It's fall (a Moose's favorite time of year)! Thanks to SAC for all the autumnal fun…
Keep your eyes out for Moose in Canoes around East Rock!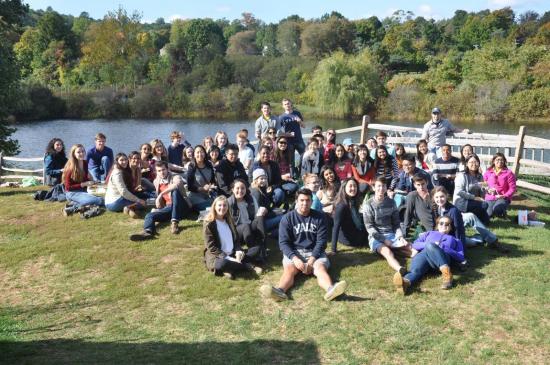 Fact: Moose love apples. So why not have an apple-picking expedition? Thanks to SAC for an awesome day of fresh apples and other goodies!
Rise Unveiling in the Common Room