PART I 
– VACATING QUARTERS
Read each message carefully, as often as it takes…you'll save time, money and aggravation.
**All forms referred to are available in the Head of College Office**
———————————————————————————————————
UNDERCLASSMEN END OF YEAR IMPORTANT INFO PART 1 of 3
VACATING QUARTERS
1)   All freshmen, sophomores and juniors not authorized to remain on campus must vacate their term-time rooms in the college, swing space and Old Campus by 12:00 noon on Thursday, May 12th.  Facilities Services is authorized to enter all undergraduate student rooms in the colleges at 12:00 Noon on Thursday, May 12th. The University will allow only the following exceptions: 1) seniors, 2) any student granted a Temporary Incomplete by the dean, 3) students AUTHORIZED to work or participate in commencement, reunions or varsity athletic competition. If you are in category 3 you must have been authorized to stay by the Secretary's Office, AYA, Facilities Services, Dining Services, the Department of Athletics, Summer Housing, Council of Masters, or the Yale College Dean's Office.
 If you are authorized to remain in the college past May 12th (Master's Aides and TIs) you must complete a 'Request for Permission to Remain on Campus After End of Spring Term' form and post it on the door of the room you occupy. If a completed form is not posted on the door, the contents of the room will be removed. Underclassmen authorized to remain in their colleges past May 12th may be asked to vacate their term-time room and relocate to another room to accommodate facilities services needs. You must vacate your post-term room by noon on Tuesday, May 24th. There are no exceptions to this deadline to vacate.
Students staying on Old Campus can move into their post-term housing on Thursday, May 12th, any time after 2:00pm. You may stay in your term-time room until 2:00. (please note: the May 12th noon deadline for placing items in storage applies even if you have permission to stay in post-term housing.)
Keys for Post Term housing will be available for pick up on Thursday, May 12th, from 2:00pm – 6:00pm in the Dwight Hall Common Room on the Old Campus.  Beginning May 13th, keys may be picked up in Welch Hall, Entry A, basement, during normal business hours (9:00am –3:30pm, Monday - Friday).
2)      Before you leave, empty and clean your room; complete and sign the Custodial Services sign-out form (which will be delivered to Suites and available in the Head of College Office), keep the original and turn in the yellow and pink copies to the Head of College Office with your keys. Custodial Services will fine those of you who do not turn in the completed forms and those whose rooms are not empty and clean.
3)      Yale furniture that you have removed from your room must be replaced before you leave or you will be fined. If Custodial Services stored items for you during the year, now is the time to ask that they be returned.
4)         If you have old furniture that you do not want, leave it outside the back gate for trash removal.
5)         While moving out of your room, please, please, please do not leave your items unattended. If you do, they may be stolen.   
6)         Never leave the back gate propped open unless you also leave someone to stand guard.
The college will reopen at 9:00am on Wednesday, August 24th. If you anticipate having difficulty with this date for any reason, now is the time to think these problems through and find solutions that are in keeping with the rules.
Monetary fines will result if the deadlines and rules are not adhered to.
All students are reminded that they are required to abide by
Undergraduate Regulations as long as they remain on campus.
PART II - 
SUMMER 
STORAGE
Everything You Wanted to Know About Stiles Summer Storage
Please read carefully. It will help you avoid fines and anguish.
**We very strongly encourage you to make use of off campus storage options.  Please SEE ATTACHMENT for these options.
Consider sharing storage with your friends.**
Information on shipping items via UPS is included here.
Ezra Stiles offers storage space in the college to its students per the following guidelines:
ALL students (Lawrance/Old Campus, Swing & Ezra Stiles) must move your belongings to storage spaces in the College before noon Thursday, May 12th. You will be permitted to store the amount of allowable furniture (see below), properly tagged, in your 2016-17 room in Ezra Stiles.
You may store three boxes size 18 x 14 x 12 (standard book box).   UPS sells boxes that size. We will not accept any larger boxes.  Only boxed items will be stored; no loose items, outsized items, nor furniture will be allowed. Each box must be labeled on the sides in bold black lettering with your name and room number.
The University/college does not accept responsibility for broken, damaged or lost items. To make it perfectly clear: You won't be reimbursed if something happens to items left in the college this summer. 
You are strongly urged to take valuable items home. Again: The University has no insurance for theft, loss, fire, flood, or any other imaginable or unimaginable loss or damage to items stored in the college. You are responsible for acquiring your own insurance if you want it.
Take your bicycle home if possible. Unfortunately we have no secure area for storage over the summer. There is limited bike storage on the racks in the basement, but if you store there you must label your bike and lock it. It can't be touching the ground AND it won't be secure so you'd store at your own risk. Bikes left in the courtyard will be removed/discarded.
Stored items may be recovered when residence halls open on Wednesday, August 24th, not before. Don't even ask.
Leave of Absence and Junior Term Abroad: you will be allowed to store two boxes, no larger than 24x18x18, in the college's long-term storage area; no furniture.  Contact the Head of College Office to find out where this is and to make arrangements for using it.
You must remove all personal belongings from your room, with the following allowable items, properly tagged (as described below), as exceptions:

One sofa per suite
One chair per student
One free-standing bookcase per student (no cinderblock constructions, no plastic cubes or other substitutions)
One standing lamp per student
Refrigerators may not be stored in student rooms nor in college storage spaces.
 You must identify each item left in your room with a tag obtained from the Head of College Office, and must securely attach and label each tag with your name and room number. Untagged and unallowable furniture, rugs, pictures, or other possessions left in rooms will be removed/discarded and you will be charged for the expense of the removal.
 2016 STILES STORAGE SCHEDULE & INSTRUCTIONS
For Entry Z Storage areas: Room L42 and L43
Aides will be stationed at a table outside of Entry Z (near back gate of the Head of College's House) during the Storage Hours listed below.  Please bring your boxes to the table and check in with the Aide on duty so that they may log your boxes.  They will open the room for you, stay until you are finished, and then relock the room. Aides will not physically move boxes for you and you must put your things where the Aide tells you to put them as we have to use the space efficiently.  If you leave your boxes in hallways, or outside the storage areas during non-storage hours, you will be charged for their removal.  
 PLAN AHEAD
If your last exam is in the afternoon and you're going home that evening, you will need to store your items before the exam.  
The last time listed is when the rooms are locked for the day.  Come no later than 15 minutes before closing time.  
Storage is not available after these dates, no exceptions. 
May 4 Wednesday          10:00-12:00     2:00-4:00
May 5 Thursday             10:00-12:00     2:00-4:00
May 6 Friday                  9:00-12:00       2:00-4:30
May 7 Saturday              9:00-12:00       2:00-4:30
May 8 Sunday               9:00-12:00       2:00-5:00
May 9 Monday               9:00-12:00       2:00-5:00
May 10 Tuesday             9:00-12:00       2:00-5:00
May 11 Wednesday        9:00-12:00       2:00-5:00
May 12 Thursday           9:00-11:30
*** PLEASE REMEMBER***
 The University assumes no liability whatsoever for items stolen from or damaged in storage areas or student rooms.
 NO access to storage areas is possible until the college officially reopens on Wednesday, August 24th.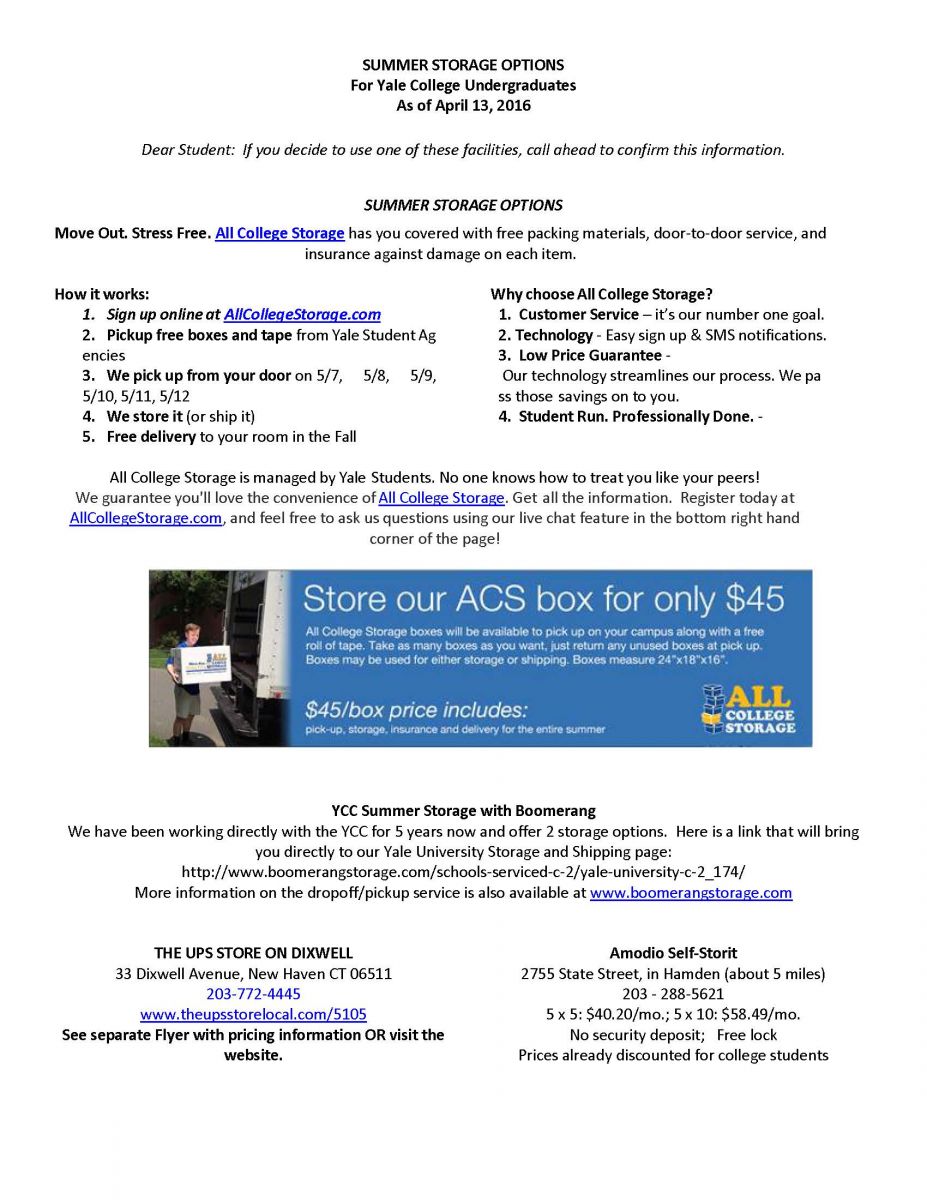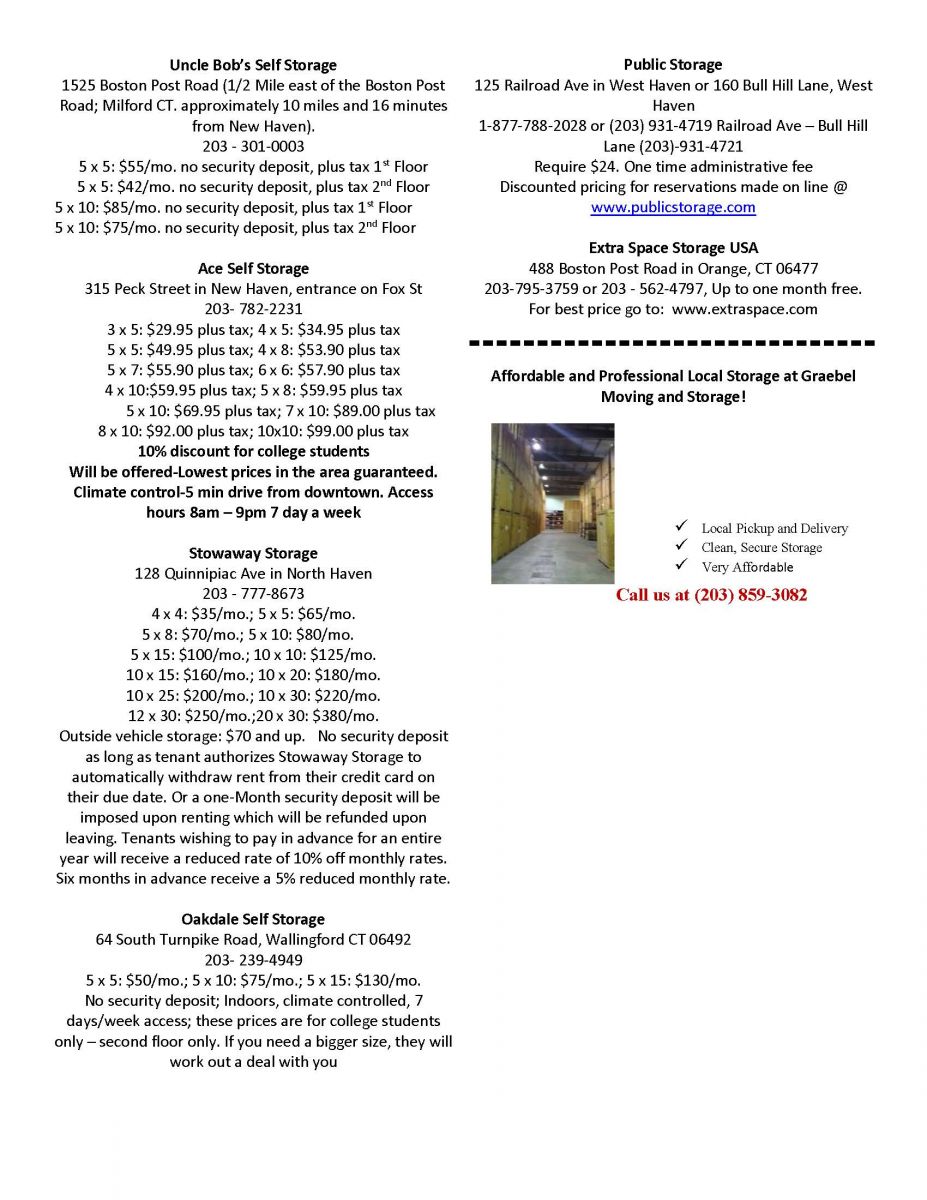 PART III - RETURNING 
KEYS
All keys issued by the Master's Office must be returned no later than noon on May 12th.  Per Undergraduate Regulations, you will be charged a $25.00 fine for each key not returned.
 NEW THIS YEAR……
Key envelopes will be distributed RIGHT TO YOUR SUITE DOOR on Tuesday, May 3rd attached to a Custodial Services Student Sign-Out Form.  Freshman will have an envelope printed in RED for old campus keys. Upperclassmen will have envelopes printed in BLACK for Ezra Stiles and Swing Space keys.
IMPORTANT NOTES
Once your room is empty and cleaned…..
BE SURE to write the key code (the letters that are stamped on your room key) in the space allotted on your key envelope legibly.  Enclose your key and seal the envelope.

Return your key envelop and completed Custodial Services Student Sign-Out Form to an Office Aide at the storage table during storage hours, or to the Head of College's Office.   If the office is closed, you may slide it under the door.

Keys you have signed out must be returned under your name or you will be charged as though you had not returned keys.  This is important to note if you loaned your key to, or traded keys with, someone else.

Any additional keys that have been signed out to you (Buttery, Student Kitchen, Sabbath Gate, etc.) can be returned in the same envelope.  Please write the key codes on the front of the envelope.

A completed, legible Custodial Services Student Sign-Out Form MUST accompany your key(s).  KEEP the original and turn in the yellow with your keys.  Custodial Services will fine those of you who do not turn in the completed forms and those whose rooms are not empty and clean.
Please contact an Office Aide at masters.aides@yale.edu or Kathy at kathryn.dunn@yale.edu with any questions.
Extra forms and envelopes are available in the Office.