Stiles Office Aides
Stiles Office Aides are stewards and ambassadors of the Ezra Stiles Community.  They are responsible for sorting mail and packages, running the DVD and Game Library, dispensing candy, helping with room lockouts, and organizing Fiesta Fridays in the College Office. Aides also help work Teas, fellows' dinners, study breaks, and other Stiles events.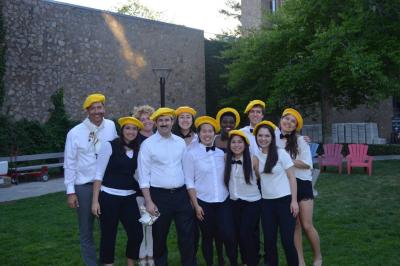 | | |
| --- | --- |
| | Kimberly (yes, you may call her Kim) is super stoked to return to Stiles and Yale after a semester abroad in New Zealand! She's a senior (who can't believe she's a senior) majoring in Ecology & Evolutionary Biology from Los Angeles, CA. She may change her mind every day about what she wants to do in the future, but she does definitively know that Stiles is the best residential college at Yale. Outside of the Stiles Office, she spends her time on Science Hill, in the dining hall catching up with friends, on the IM fields playing any and all sports, and in the PWG pool playing club water polo (not all at the same time, of course). Chances are, though, she'll be in the Office at least once a day to talk to her lovely Stiles Aides brethren (and grab chocolate), so come by and say hi to whomever's in the office - you'll probably run into her! |
| | A Southern California native, Lauren loves the sun, the beach, and the Stiles meese herd in equal measure. A History of Art major and pre-med student, you can find her cheering on the Bulldogs at most sporting events, playing traditional Korean drums, or snacking at the Stiles buttery in her spare time. Lauren's favorite part of Yale is the amazing Stiles community, so please visit the office, eat some candy so she does not finish the bowl, and say hi! She loves meeting new meese! |
| | Born and raised in rural South Dakota, Mallory feels particularly at home being surrounded by wild animals, with the Stilesian herd being no exception. You can usually find her in the Stiles gym listening to anything from "Life of Pablo" to Prince to Reggaeton. Mallory believes anything in life is conquerable with the help of coffee, chocolate, and peanut butter. In addition to being a Stiles Office Aide, she will be the Head FroCo for Stiles this year (Moose of 2020, we cannot wait!), is a Mellon Mays Undergrad Fellow (ask me about it), and loves to attend and entertain any and all of her friends' events and adventurous whims. Please always feel welcome to come through the office to grab candy, meet aides like me, and talk with the incredible Marc, Kathy, and Jean, who help ensure that the herd is well-fed, well-loved, and make our college office the absolute best on campus. |
| | Genevieve, a California Bay Area native, loves Stiles more than basically anything, including chocolate. When not showing her moose spirit by herding people together for IM games (#TyngChamps2016), she spends her time going to shows on campus, dancing with Groove Dance Co, playing club soccer, violin, Capoeira, and running. Though she will be taking the Fall semester off to travel to far-off lands, she cannot wait to be back with her fellow moose in the Spring! |
| | Amy is a sophomore from upstate New York who is super excited to actually live in Stiles this year! Amy doesn't know what she wants to study, but loves reading, politics, and all things British. She is also learning Russian and spent this past summer in St. Petersburg. You can usually find Amy in the library or getting a crepe. She also loves to bake, watch movies, and binge watch Netflix, so be sure to stop by the office with any recommendations you might have! |
| | Fernando is a proud Moose from Southern California. His love for many subjects has left him "undecided" for far too long. His interests include: spoken word, Chicano/a literature, corgis, and impromptu phone calls to Papa John's. He's the Treasurer of WORD, translates for the Yale Law School, and volunteers with Asylum Seekers Advocacy Project (ASAP). If Fernando isn't working behind the aide's desk, then he's probably in front of the aide's desk eating from the candy bowl (stop him). He's working closely with Taco Bell to open a new Taco Bell in the center of Old Campus. Come by and say hi! |
| | Hailing from South Georgia, Justin is a sophomore Stilesian who has dreams of being the first human to go to Venus (leaving Levon far behind). He firmly believes that time you enjoy wasting is not wasted time and you can often find him living out this motto in the Stiles buttery. "$ave Dat Money" is the anthem of his life. He hopes to double major in MB&B and Art History because he wants to go into the medical field and be able to keep up with the conversations at future dinner parties (though rumor has it he actually has no clue what he wants to do in life). His favorite movies are V for Vendetta and Good Will Hunting to which he has been known to make far too many references. In addition to being a Stiles Aide, Justin works at Global Grounds where he can often be found drinking coffee at unacceptable hours. In general, he loves to laugh and soak up the company of his fellow Stiles Moose! |
| | Hailing from Seattle, Vikram loved his first year experiencing four distinct seasons and can't wait for another one! He is psyched to move into Stiles and be able to walk to the dining hall in his pajamas & robe in the dead of winter. He doesn't really know what he wants to major in at Yale, and plans on leaving that decision till very late. If you don't see him in the Stiles Office, there's a good chance he's either playing ultimate frisbee or eating ice cream with Mambo. Vikram is super excited to meet all the new Freshmoose so come grab some candy and say hi!! |
| | Harper is a Junior Stilesian from Washington, DC. This year she will be serving as a co-president of the Yale Refugee Project and she will be interning at New Haven's refugee resettlement agency as a Dwight Hall fellow. While at Yale, in addition to her work for the Yale Refugee Project, Harper has served as a Yale World Fellows Liaison, competed as a member of the Yale Equestrian Team, and organized as a member of the ES student activities committee. Harper adores Ezra Stiles and very little makes her happier than working in the college's office, planning Ezra Stiles events, and inundating the college with moose-centric designs and ideas. |
| | Daisy hails from McFarland, a small farming town in California's fertile central valley (McFarland, USA–if you haven't seen the movie yet, it's totally worth it). Daisy is an active member of the Ezra Stiles soccer IM team, and served on the Yale Pre-Frosh Advising committee. She is part of La Casa, the Latino Cultural House and a member of the Catholic Center at Yale.  She is also the Recruiting Coordinator for Bridges, an English tutoring program for New Haven immigrants or foreign grad students. Daisy is super excited to join the Stiles Aide family (aka the best job at Yale). Around the office, Daisy is affectionately known as Daisy-berry. She is lactose intolerant. |
---
Stiles House Aides
Stiles House Aides assist with Teas, fellows' dinners, study breaks, and other Stiles events.
| | |
| --- | --- |
| Analia Del Bosque | Class of 2017 |
| Paul Styslinger | Class of 2017 |
| Roslyn Rivas | Class of 2017 |
| Tess Brown | Class of 2017 |
| Aurora Fonseca | Class of 2018 |
| Jiaqi Liu | Class of 2018 |
| Jayshree Sarathy | Class of 2018 |
| Alan Diaz-Santana | Class of 2018 |
| Ellis Burgoon Miskell | Class of 2019 |
| Minh Nguyen | Class of 2019 |
| Madison (Maddy) O'Neal | Class of 2019 |
| Claudia Zamora | Class of 2019 |