Celebrating Our Seniors
Senior Spring brings a lot of excitement. Here are some of the ways we celebrated our Class of 2023!
Commencement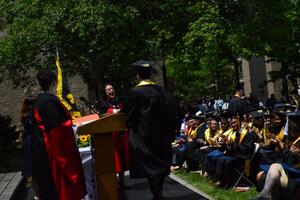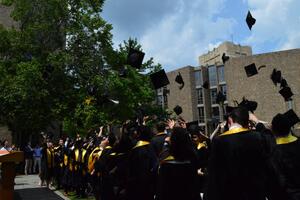 Senior Week Sidewalk Cafe –Moose in Paris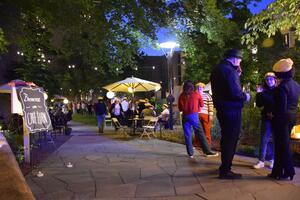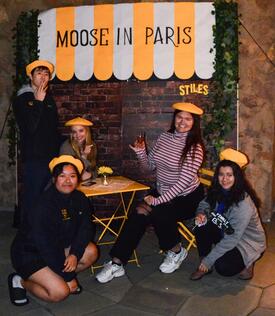 Senior Dinner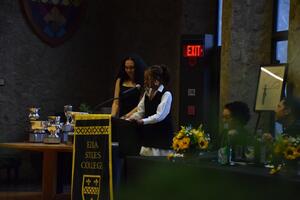 Sippin & Sequins Senior Masquerade Ball Mask Making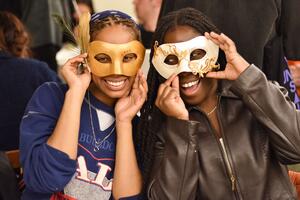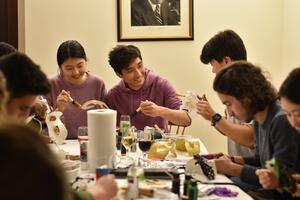 Saarinen Style, Cocktails & Conversation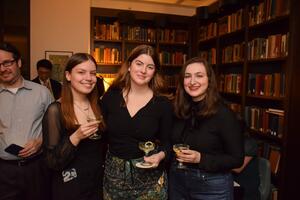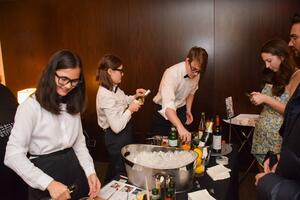 ---
Ezra Stiles Student Film Festival 2023
Stiles students (and some students from the other lesser residential colleges) get their chance to walk the red carpet,  see their work on the big screen, and possibly go home with a coveted Golden Moose award.  This year 14 student (short) films were submitted and screened at this paparazzi'd, swag-bagged spectacular.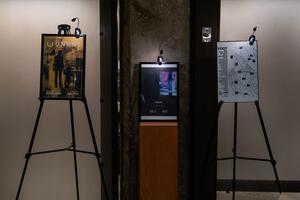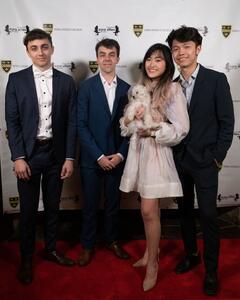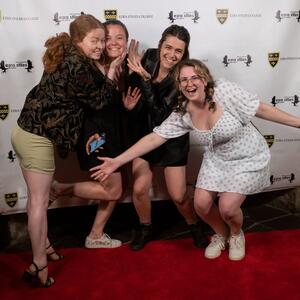 ---
Stiles Arts Week 2023
A decades old tradition in Stiles celebrating art in all forms, coordinated by a student committee in conjunction with the Head of College Office features a schedule of events ranging from creative writing, crochet and sculpture making workshops to author talks, spoken word and dance showcases; this wonderful week where our students can share, make or just experience a familiar or new art form, culminates in an afternoon of exquisite musical performances by Stiles students known as Classical Brunch in the Head of College House.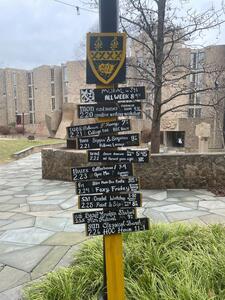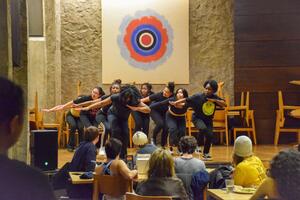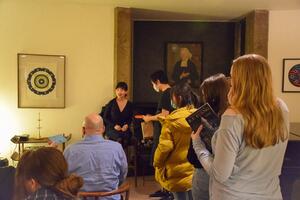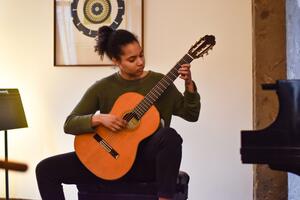 ---
Pub Night
For one glorious night every year,  Stiles takes the Herd over the pond by transforming the dining hall into a classic UK pub. Complete with such treats as proper fish and chips, bangers and mash, traditional lagers and brews (for the 21+ Moose), live music, trivia and obscure sport on telly ~ it is a highly anticipated night.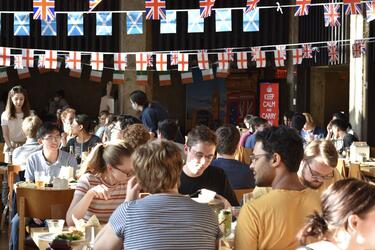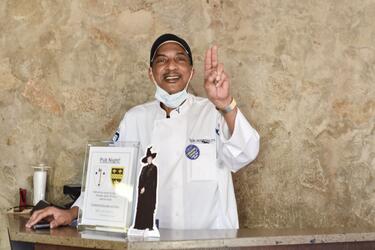 ---
U.S. Poet Laureate Ada Limón Visits Yale and Stiles
On Feb. 1, Poet Laureate Ada Limón sat down for a conversation with the Head of Ezra Stiles College, Alicia Schmidt Camacho, then gave a poetry reading and answered audience questions. Earlier that day Ms. Limón met in the college with a small group of Stiles students to discuss her work and career.  To Camacho, reading Limón's work has always felt like exploring a close relationship between herself and the poet — planning this event and circulating Limón's poetry among her students felt like extending this relationship to her surrounding community.  "I realized that she [Limón] had the capacity to gather and bring us together," Camacho said. Limón is the 24th  Poet Laureate of the United States and the author ofsix books of poetry, including "The Carrying," which won the National Book Critics Circle Award for Poetry.   Her visit was co-sponsored by the Yale Center for the Study of Race, Indigeneity and Transnational Migration.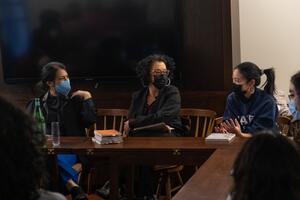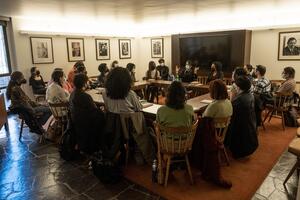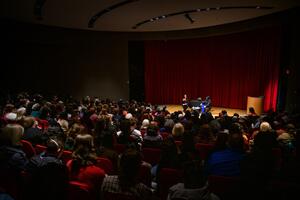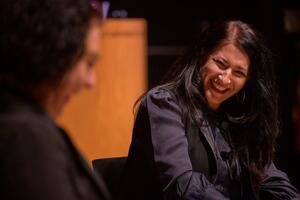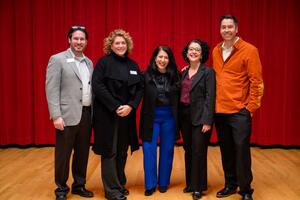 ---
Ezra Stiles College Earns the Sheffield Society Cup and Prize 
Stiles students gathered to celebrate the honor at a special reception in the dining hall hosted by Dean Temple. The Sheffield Society House Prize and Cup are awarded to the residential college with the highest standing in scholarship in science, mathematics, and engineering and is based on the GPA of all students in all classes.  All Ezra Stiles College students enrolled for a course in a STEM subject during the Fall 2021 or Spring 2022 terms, regardless of their major, contributed to this achievement.  Ezra Stiles College will once again have its name engraved on the Sheffield Society House Prize cup.  Stiles last won the prize two years in a row for the 2010-2011 and the 2011–2012 academic years.  Additionally, a student member of the college, Josh Beale '23, has been named the "Sheffield Society Research Fellow", a title which brings with it funding provided for a summer research internship in the sciences.   
---
Ezra Gala 2022
The much anticipated return of a 'back-to-normal' Stiles Fall formal took place at The Elm City Club.  Stiles SAC (Student Activity Committee) went to great lengths to be sure their fellow Stilesians were treated to a fun and classy evening featuring great food, signature drinks, a photo booth & more ~ beginning with an elegant string quartet and waltzing and ending with a DJ that brought down the house.  Moose even had the chance to brush up on their dance moves with a basic waltz lesson in the dining hall before the big night, taught by the Yale Ballroom Dance Team.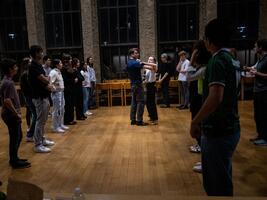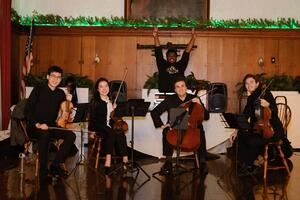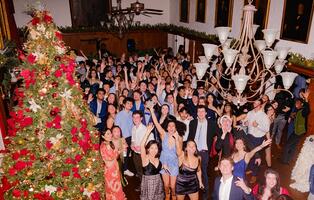 ---
October Fun in Stiles
October is a great month to find moments to celebrate and take a much needed break, whether it's a slight birthday nod to our favorite (non-Yale) professor, a SAC-led early morning hike to the top of East Rock, or the much anticipated event-packed Halloween season that follows closely on the heels of October break.  One of the month's highlights is always Stiles pumpkin carving night.  Dozens of students (and graduate affiliates) roll up their sleeves to flex their creative muscles and carving skills as they team up to vie for Moose Merch gift certificates in a variety of prize categories.  Then the whole college benefits from the display!  This year 'Halloweek' in Stiles also included the Little Free Library stocked with classic scary stories, ghost stories by candlelight with Dean Temple, an ESCC trip to the Fright Haven haunted house, a 'Thriller' dance tutorial and more (if you can believe it)!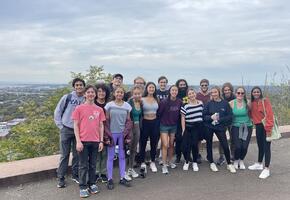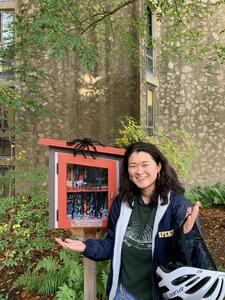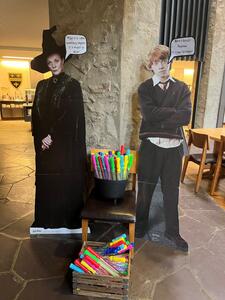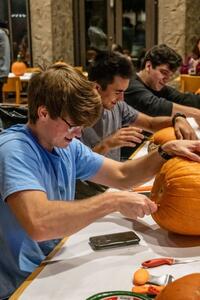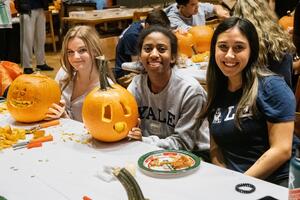 ---
Stiles Annual Apple Picking Trip 2022
Each Fall, Stiles SAC (Student Activities Committee) organizes a trip to a local orchard for the Herd to enjoy a classic New England Fall day ~ picking apples and other goodies!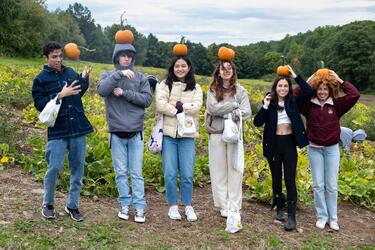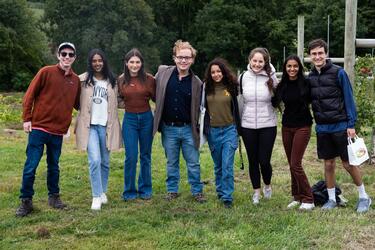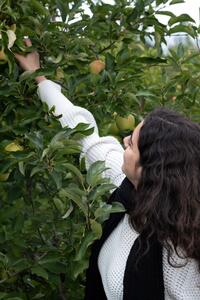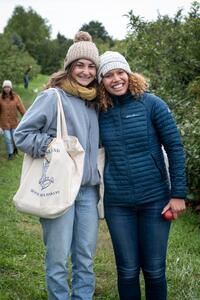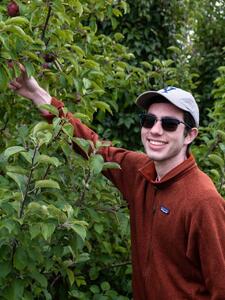 ---
Beach Day
Taking advantage of gorgeous early fall weather, the Ezra Stiles College Council (ESCC) treated the Herd to a beach day at Hammonasset Beach State Park to enjoy our stunning Connecticut coastline, a cook out, and plenty of sun and sand.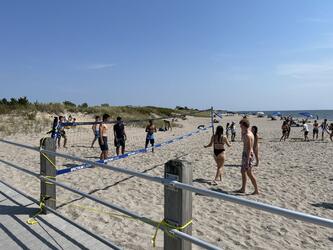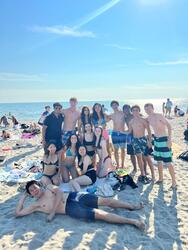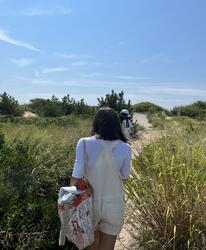 ---
Boston Bound for some (ML)Baseball
Let me tell you 'bout a story…. our wicked smaht Head of College, Alicia Schmidt Camacho, took a busload of Moose to see the 9-time, World Series-winning Boston Red Sox play in historic Fenway Park. Moose used their concession stand credits to sample everything from iconic Fenway Franks to lobstah rolls and maybe even some chowdah. No one hit it over the Green Monstah, but a fabulous time was still had by all.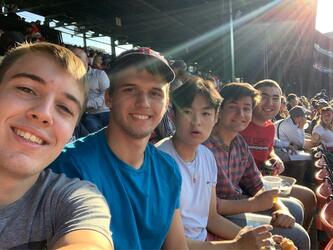 .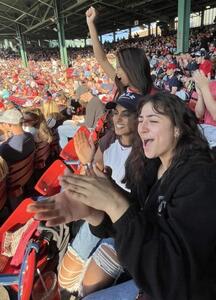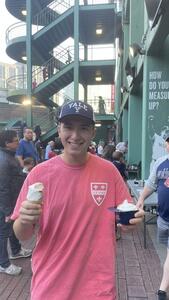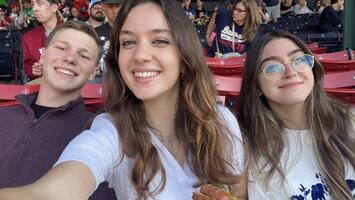 ---
Class of 2026 First-Year Dinner
At the end of their orientation program, the stiles class of 2026 gathered in the dining hall for their first-year dinner. The meal, served by the incredible stiles dining hall team, was followed by a welcome speech by Dean Temple and Head of College Camacho.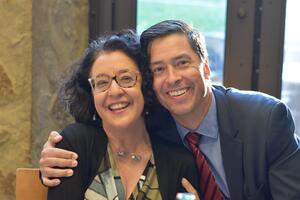 ---
Class of 2026 Move-in and Orientation
This August, a team of eager stilesians gathered on old campus to help move in the class of 2026. The follow days were filled with commencement activties and tours of the college.  

---
Commencement for the Classes of 2020 & 2022
This year Stiles was fortunate enough to host two commencements! One for the graduating Class of 2022 and a make-up ceremony for the returning Class of 2020.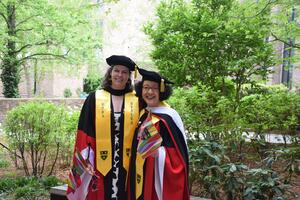 ---
Senior Week 2022
The Class of 2022 was treated to two special events: Sippin' & Sequins and Sidewalk Café. Dean Temple and Resident Fellow, John Yi hosted Sippin' & Sequins and seniors crafted their own custom masquerade masks. Sidewalk Café brought a Mexican pueblo to the Stiles Courtyard with great food, live music, and a beautiful photo booth.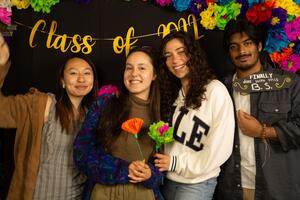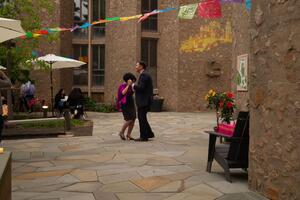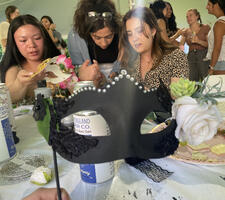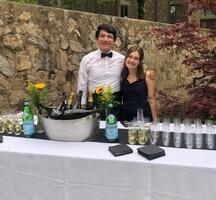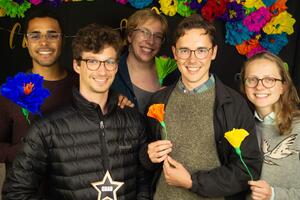 Stiles-Morse Fun Day
Stilesians and Morsels came together on the Crescent Courtyard to unwind near the end of a busy semester with games, food trucks, bounce houses, and an obstacle course!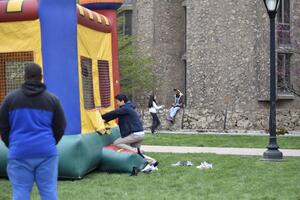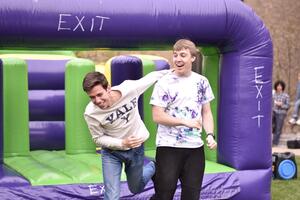 Tie Dye Fiesta
What better piece of Stiles merch than a custom tie-dye shirt? Stilesians gathered in the courtyard to have fun and create unique designs.

Stiles Beach Trip
Stilesians traveled to Hammonasset Beach State Park to celebrate the end of classes, play volleyball,  cook out, and enjoy the Connecticut coastline.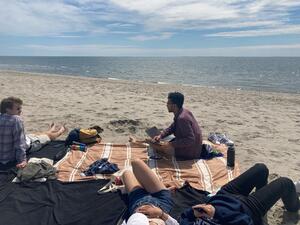 Stiles Pub Night 2022
Moose took a quick trip across the pond for fish and chips, pretzels, curry, and much more at this much loved annual event served alongside live music, trivia, and plenty of photo ops!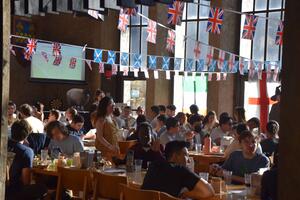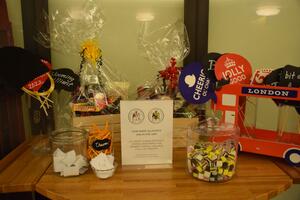 Ezra Stiles Student Film Festival 2022
A night unlike any other! The annual Stiles Film Fest returned in person with amazing student-made short films, swag bags, snacks, and of course, the red carpet. Two thumbs up!

Stiles Arts Week 
Moose had their pick of forms for artist expression during Stiles Arts Week 2022, culminating with one of Stiles' most beloved traditions, 'Classical Brunch'.

Stiles Pop-up Events
Stiles encourages students to bring their talents and ideas to create new events that can be enjoyed by the entire residential college. Open-mic nights brought spoken word and other live performances into the common room, the "Stilesbucks" pop-up coffee shop provided much-appreciated caffeine by way of custom pour-overs, and Stiles Music Box, a pop-up performance showcase, brought together musical artists from across the college.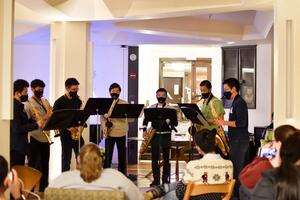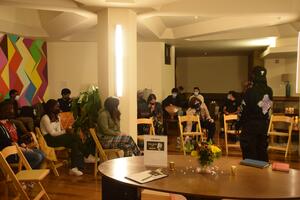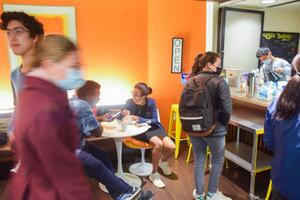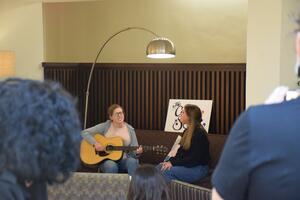 Holiday Happenings
Stilesians took some much-needed breaks from studying for finals to help Head Camacho and Dean Temple with tree trimming, caroling, cookie decorating and more.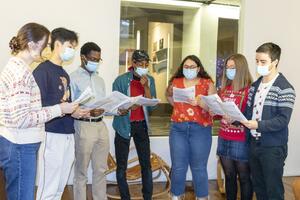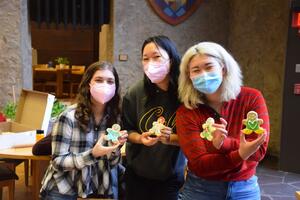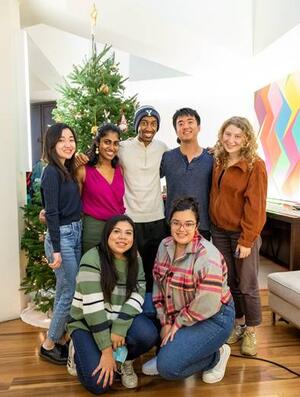 Pumpkin Carving
With prizes like Moose merch, Grubhub, and movie tickets on the line, students took Stiles' annual pumpkin carving to a whole other level.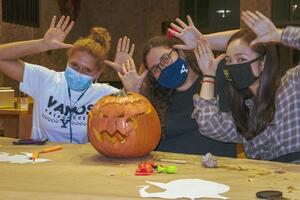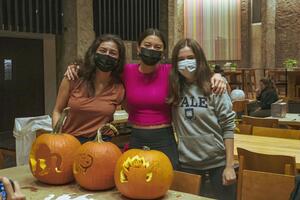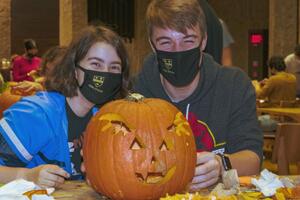 Ezra Gala 
The best residential college dance at Yale, Stiles Fall formal returned this year to the delight of the Herd.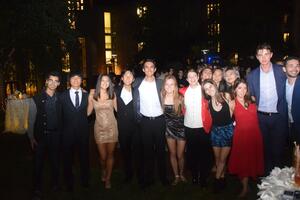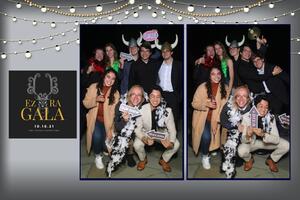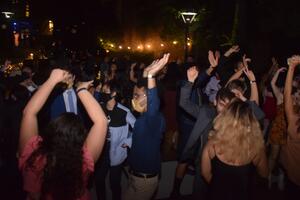 Apple Picking
Each year Stiles SAC (Student Activities Committee) arranges for the Herd to travel to a local apple orchard for a day of traditional New England fall fun picking Gala, McIntosh, Honeycrisps, and more, to their heart's desire.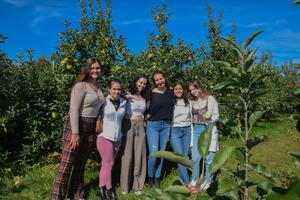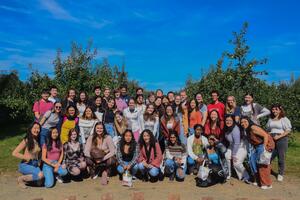 Student Kitchen Special Programs
The Ezra Stiles Student Kitchen reopened this year!  Student managers Tyler and Noa dished out lots of laughs and good times over several special program nights featuring everything from fresh pancakes, gourmet grilled cheese, and french onion soup to vegan sushi!  

Big Sib Sunday Social
Stilesians launched this years big sib program by playing lawn games and getting free Milkcraft with their new class of 2025 friends. The hot weather made the ice cream a much needed treat.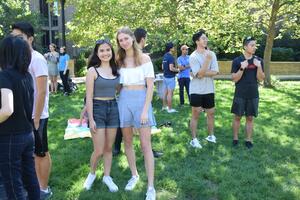 ---
First-Year and Sophomore Picnics
This year's first-year dinner was held as a lovely evening picnic in the courtyard. The class of 2025 also had a picnic to make up for last year's cancellation. Many thanks to the incredible dining hall staff who made it all possible.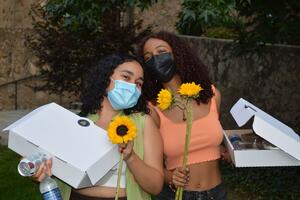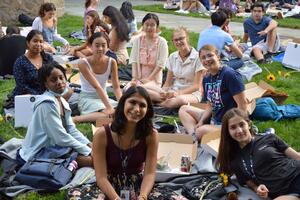 ---
Fall Move-in
Stilesians teamed for the first time in over a year to resume the tradition of moving first-year students into Old Campus. With music, a little bit of rain, and a whole lot of cheering, the process was a smashing success.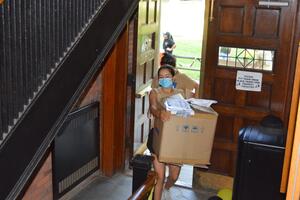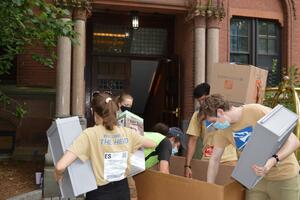 ---
Commencement 2021
Commencement looked a little different this year, but we gladly celebrated you in every way we could! Congratulations Class of 2021 – we will miss you, but you will be always be cherished members of The Herd!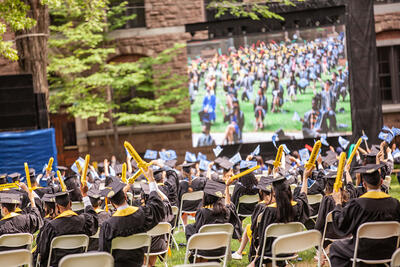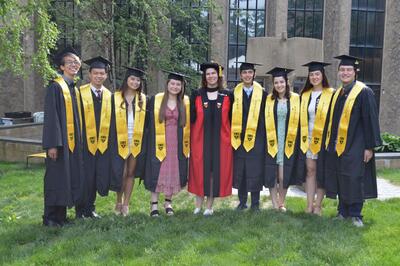 ---
Senior Dinner
As a part of this year's commencement activites, the fully vaccinated senior class gathered in the college courtyard for a delicious meal prepared by Yale Hospitality and an evening of awards and toasts. Head of College Camacho and Dean Temple gave speeches honoring the community and their achievements.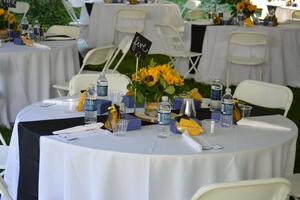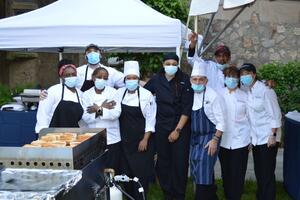 ---
Wild Moose Chase 
For senior week, Stiles seniors went on a wild (m)oose chase across campus and into New Haven to complete a scavenger hunt full of fun challenges and photo ops, reminding all the lesser colleges just why Stiles is the best residential college at Yale.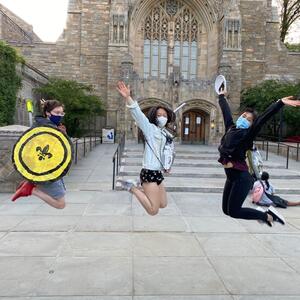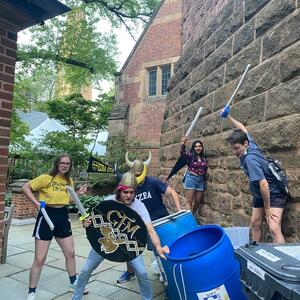 ---
Sippin' and Sequins 2021
Even though Yale's Senior Masquerade was cancelled due to COVID-19, our Seniors kept this Stiles tradition alive.  Senior Moose gathered in small groups to host individual mask-making parties, but still all came together over Zoom to spend a lovely evening making beautiful masks and enjoying wine and cheese.  A surprise virtual pop-in from their own FroCos from their first-year, topped off a really special evening.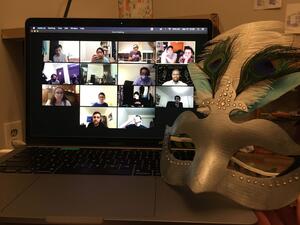 ---
First-Year Send-Off
This year, we were lucky to have the Class of 2024 live in Stiles for the fall semester! During the last week of on-campus living, we gathered virtually to send off the froshmoose, share stories, toast each other and future!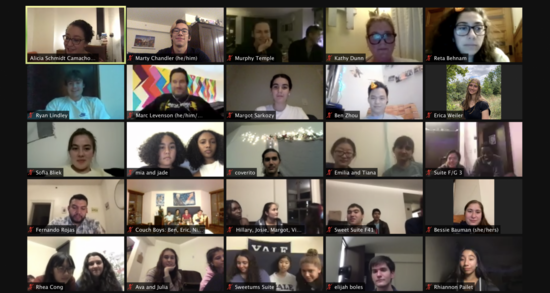 ---
Fall IMs Kickoff
Who said social distancing can't be fun? To kickoff the start of the fall intramural sports, mask-wearing moose enjoyed games on the Crescent Courtyard Lawn, donuts, and cheers with HC and the Stiles Moose!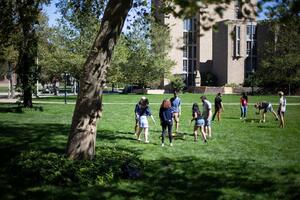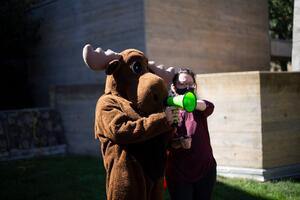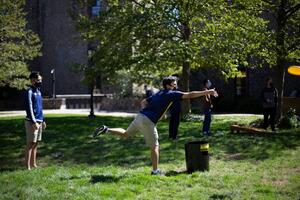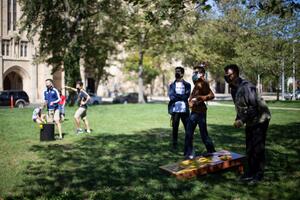 ---
Senior Celebration
With much onscreen laughter and offscreen sobbing, more than 80 seniors attended a virtual senior celebration on April 28, 2020 featuring toasts, superlatives, awards, and an amazing slideshow. Moose love forever, Stiles 2020!

---
Dean P Celebration
The Herd showed up to the house to celebrate Dean P and her family as she approached her last weeks as Dean of Ezra Stiles College (sigh). Highlights included a ton of genuine Sri Lankan food, a slideshow, and a custom-made YDN front page full of (mostly real) stories from Dean P's time as a Yale student and her and her family's time in Stiles. Bonus fun: Spontaneous raucous cheering for members of the victorious innertube water polo team as they arrived, wet hair and all, at the event!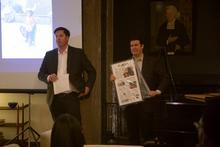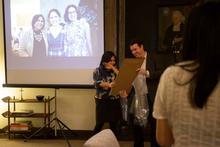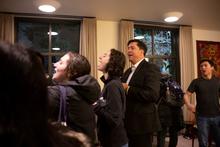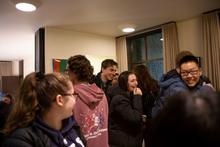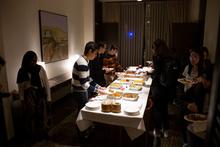 ---
Innertube Water Polo Champions!
Led by a determined group of seniors, the Stiles Innertube Water Polo team won the championship in overtime in front of dozens of cheering Stilesians! Congratulations!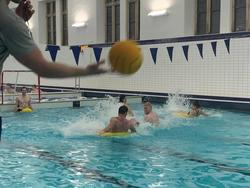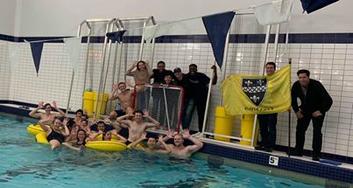 ---
Dean P's Star Wars-themed Fun Brunch
Dean P's Star Wars-obsessed children had never seen a Star Wars movie, so it just made sense for her to host a Star Wars-themed Fun Brunch in the dining hall featuring Star Wars: A New Hope. Darth was unable to lure our moose to the Dark Side (i.e., Morse).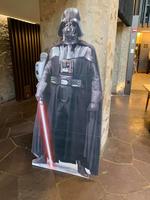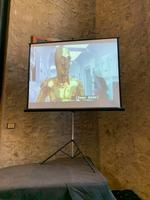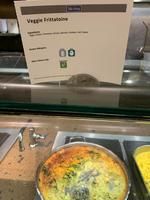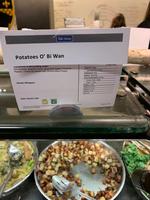 ---
Stiles Film Festival
Stiles's 5th Film Festival was celebrated this past Friday by the moose, their friends, and a very special corgi named Coco. Congratulations to all the Golden Moose winners!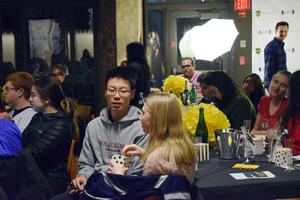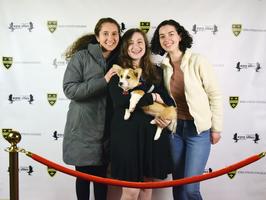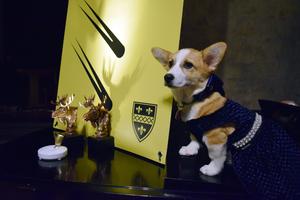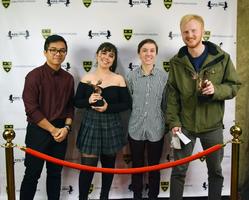 ---
Arts Week
Students planted succulents, painted pet rocks, and played beautiful music during our annual Arts Week.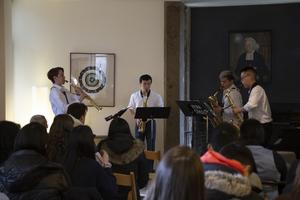 ---
Dumpling Making
Stiles made dumplings to kick off the Year of the Rat!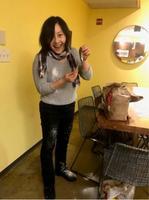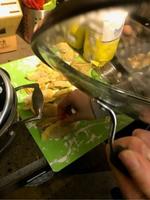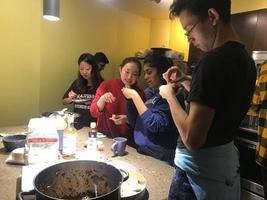 ---
Contra Dance
Stilesians and their guests enjoyed a great contra dance in the dining hall!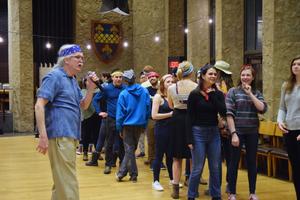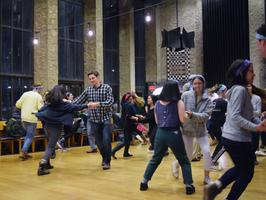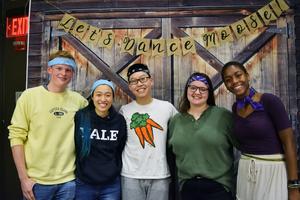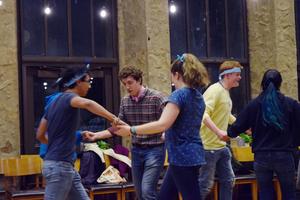 ---
Holiday festivities
Before leaving for winter break, Stiles students celebrated the end of the year with a variety of activities, including a tree decorating party in the Head of College House and a cheese tasting study break!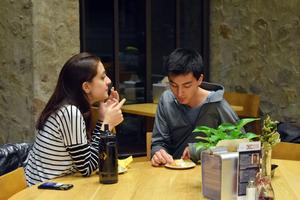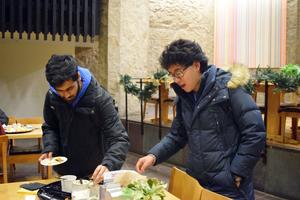 ---
Ezra Gala
The Graduate Club of New Haven was filled with glamorous Stilesians in a night filled with jazz, a DJ, good food, and even better friends.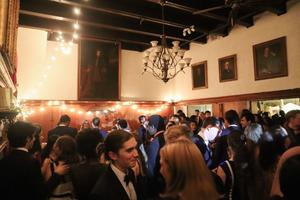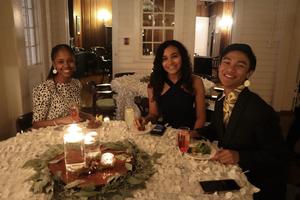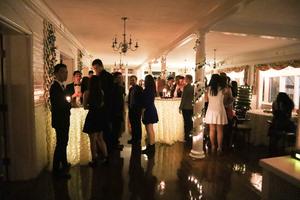 ---
It's the Great Pumpkin, Ezra Stiles!
Stilesians took a break from studying for midterms to participate in our annual pumpkin-carving competition and enjoy donuts (and pumpkin guts!) with their friends.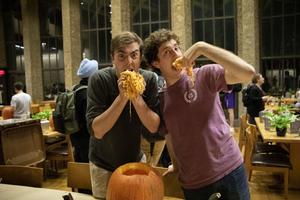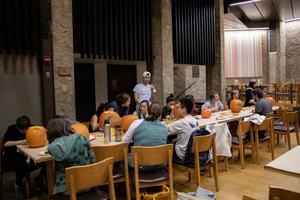 ---
Apple Picking Trip
Two busloads of Stilesians enjoyed treats and cider at Lyman Orchards, gathering apples to bake pies in the student kitchen!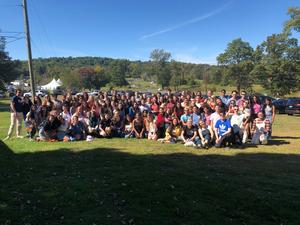 ---
New Haven Road Race
On Labor Day, a whole herd of Stilesians ran through the streets of the Elm City together, finishing the 5k race wearing smiles on their faces, and tall black and yellow socks on their feet!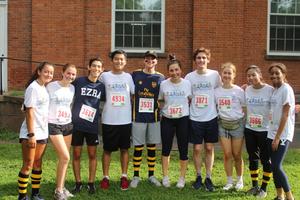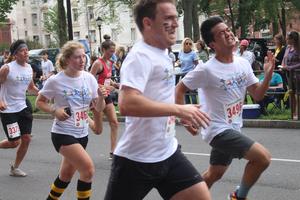 ---
First-Year Dinner
First-year moose enjoyed a beautiful meal while Head Pitti explained the history and traditions of Ezra Stiles College.
Welcome BBQ 2019
Ezra Stiles kicked off the year with a barbeque introducing the first-years to the college and the upper-level students.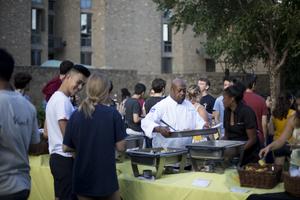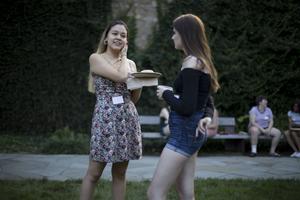 ---
Move-In  2019
Ezra Stiles sophomores, juniors, and seniors welcomed the newest members of the colleges - 111 first-year students - on August 22nd as they moved into Stiles's residences on Old Campus, Lawrance Hall. We are so excited for them to start classes and beign their college careers!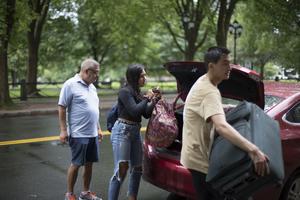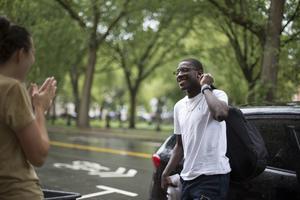 Commencement 2019
On May 20th, 115 Stiles seniors recieved their Yale diplomas from Head Pitti and Dean P in the Stiles courtyard with hundreds of family and friends cheering them on. We will miss the Class of 2019, but they will be always be cherished members of The Herd!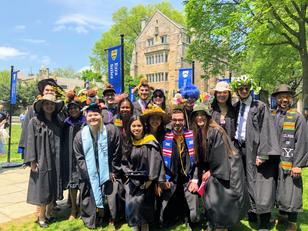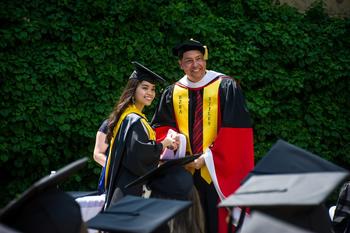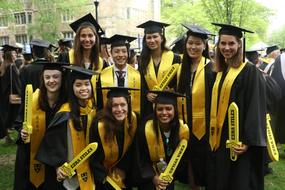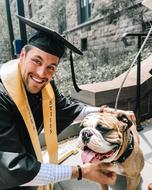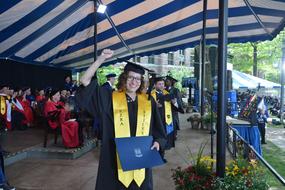 Video of Courtyard Commencement Ceremony Part I
Video of Courtyard Commencement Ceremony Part II
---
Senior Week Sidewalk Cafe 2019 - Moose Mischief Managed  
For this Stiles Senior Week tradition, the Courtyard was transformed into scenes out of the world of Harry Potter. Our Seniors were feted with live thematic music, refreshments in the colors of the four Hogwarts houses, a feast worthy of the wizarding world, and many other magical touches.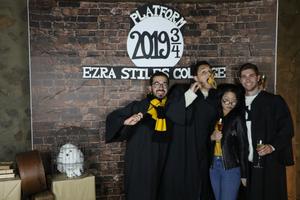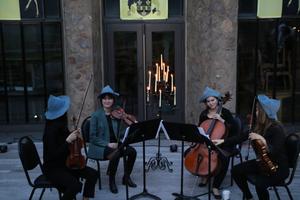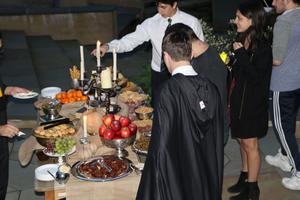 ---
Spring Pranks
The residents of Morse College were surprised to find that their banners spelling out their college's name had been upgraded Wednesday. Looks like Ezra Stiles is gaining new annex housing!
---
Medieval (K)night 2019
Stilesians from all corners of campus came together to don Viking helmets, wield their shields, and brave the elements to raid Silliman, Old Campus, and Bass Library! A royal feast with festive theatrical accompaniment awaited the conquering heroes. The youngest moose warriors were also formally inducted into the Order of the Moose.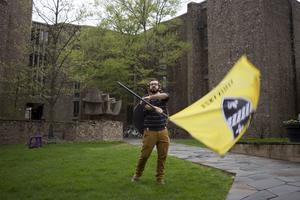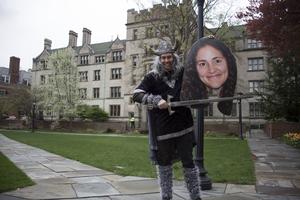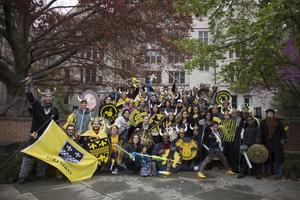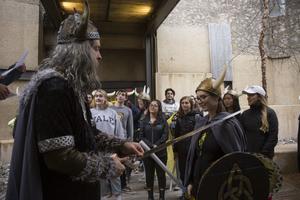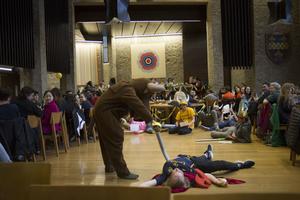 ---
Stiles Celebrates Achievements
The weekend of April 6-8th Stiles first-years won the First-Year Olympics, and a Stiles-Trumbull team of chefs won third place in the Yale Final Cut undergraduate cooking competition. Congratulations to everyone involved!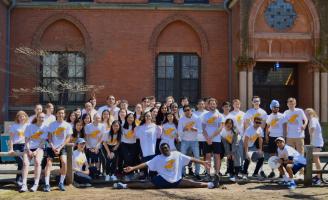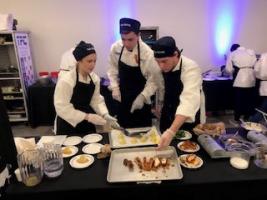 ---
Pub Night
Every Sunday evening, the Dining Hall is open to Stilesians only for Family Night. This past weekend we celebrated Pub Night with typical British fare, music, and merriment!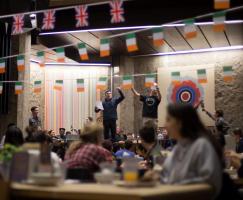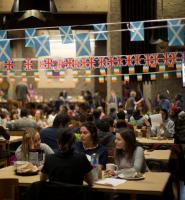 ---
Celebrating Arts Week 
Over the course of a week, Stiles students performed music, showed off their dance moves, and expressed their inner artists. Some notable events pictured below are the coffee-house open-mic night, the Ezra Stiles Film Fest, and Classical Brunch.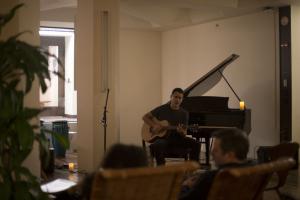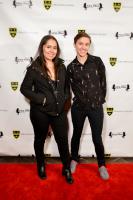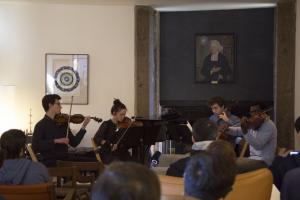 ---
Superbowl Celebration
The dining hall was converted into a Superbowl watch party on Sunday, February 3rd. Rams and Patriots fans alike enjoyed the Snackstadium and shared good food with good company.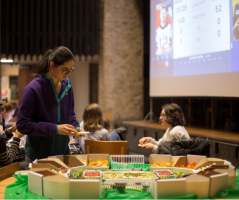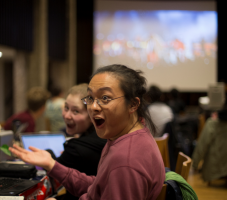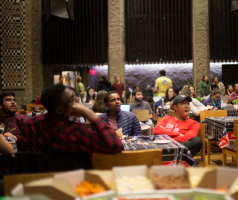 ---
Winter Stiles
Stiles students celebrated the end of the year with hearty carols, festive study breaks, and good cheer as they hunkered down to study for their fall semester finals.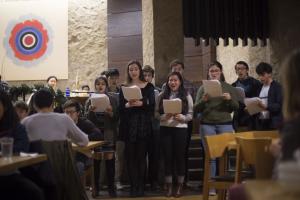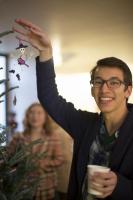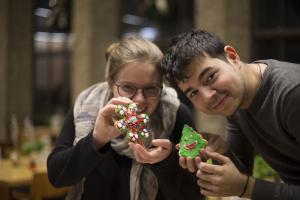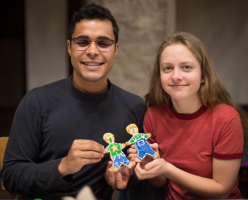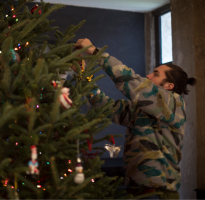 ---
Ezra Gala 2018
The night was partied away in a festive evening of dancing, good food, and good friends at the Graduate Club.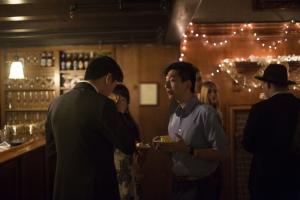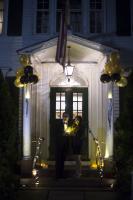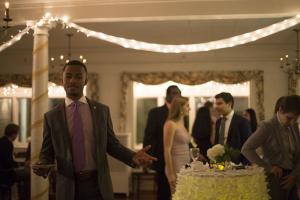 ---
Apple Picking 
Students piled into busses and explored Connecticut's apple orchards, chomping on and picking apples, in a quintessential New England fall activity.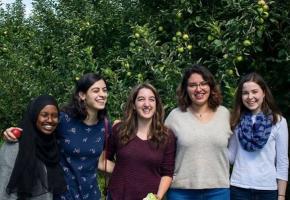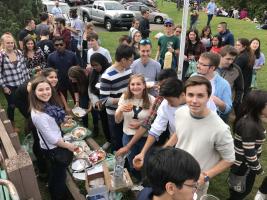 ---
Smore's Night
The college celebrated the end of  summer with a smore's-roasting bonfire, taking advantage of the last, few warm evenings before fall sets in.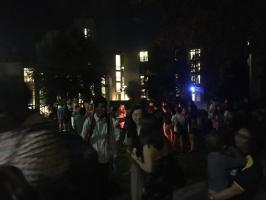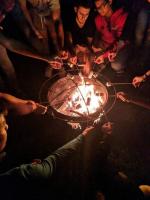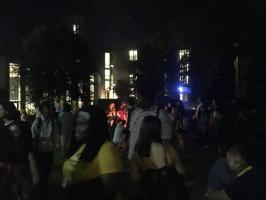 ---
Big-Little Sib Cookout 2018
The first-year students took advantage of Stiles's green, grassy courtyard and got to meet some of their fellow Stilesians over juicy burgers and sweet, summer corn.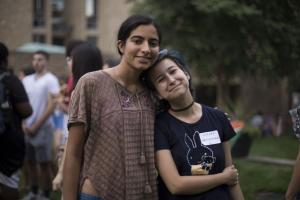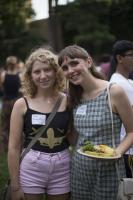 ---
First-Year Reception 2018 
After move-in, Head Pitti's house was opened up to the families of the newest members of the Moose Herd.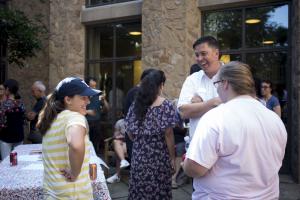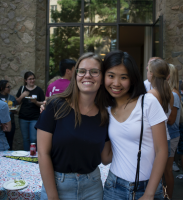 ---
First-Year Move-In 2018 
It was a hot, exciting day as the newest members of Ezra Stiles moved into their dorms and met their new roommates for the first time! Older Stiles students joined in on the fun, helping carry first-year's things into their dorms.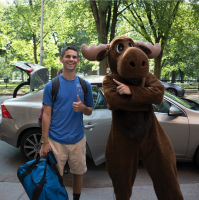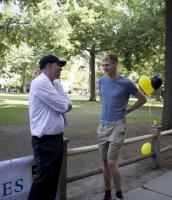 ---
Commencement 2018 
On May 21st, 115 Stiles seniors recieved their Yale diplomas in the college courtyard surrounded by family and friends. While we are sad to see them go, we know they are off to do great things.  Forever part of the Herd!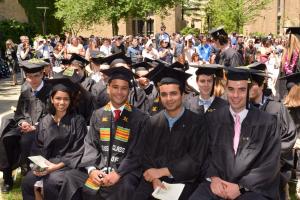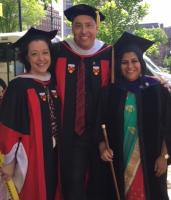 ---
Senior Week Sidewalk Cafe 2018, Paris! 
For this Stiles Senior Week tradition, the Common Room was transformed into a Paris bistro and our Seniors enjoyed a fun evening of authentic French crepes, wine, and music in the company of classmates.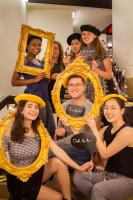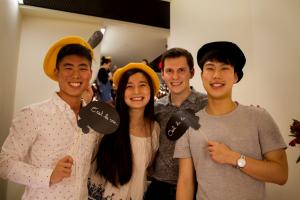 ---
Sushi Study Break 2018 
The Sushi Study Break featuring more sushi than any moose could possibly dream of, kicked off a week of study breaks to keep Stilesians happy and healthy during exams.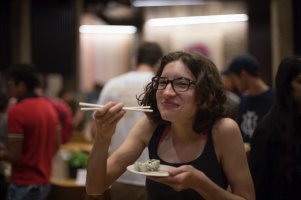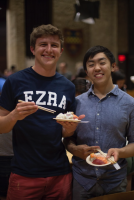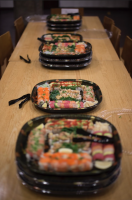 ---
Class of 2018 Senior Dinner 
On May 2nd we celebrated our graduating seniors with a reception and dinner in their honor. The night featured speeches by Head of College Pitti and Dean Parndigamage, toasts by seniors, an ceremony for annual college awards, and a slideshow from the past four years.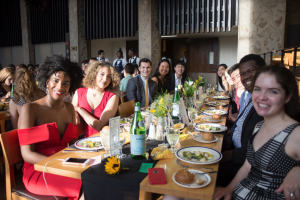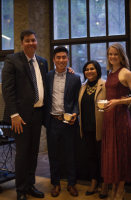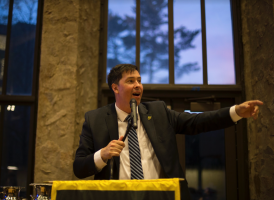 ---
Courtyard Easter Egg Hunt 2018
On April 1st clever moose searched the college courtyard where hundreds of eggs full of chocolate, jelly beans, and a few April Fools jokes had been hidden.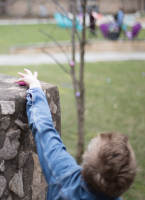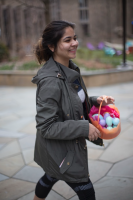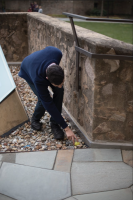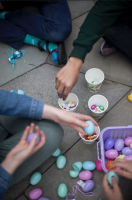 ---
The Ezra Stiles Film Festival 2018 
This February, thanks to several dedicated students and our incredible college staff, the Ezra Stiles Film Festival was brought back better than ever. The festival featured films by our talented Stilesians, as well as those by students in other residential colleges. Golden Moose trophies were awarded by an esteemed panel of judges, and everyone who attended went home with a swag bag far better than those given out at Hollywood award ceremonies.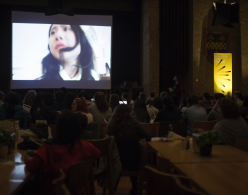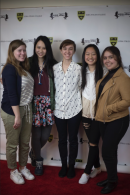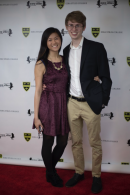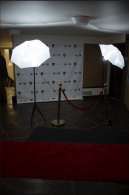 ---
Arts Week 2018 
Every year, the Ezra Stiles Arts Week Committee puts together a fabulous week of opportunities for Stilesians to explore their creative sides. This year featured a special student showcase in the Stiles Art Gallery, houseplant party, dance showcase, pet rock rumble, V-day card workshop, and more!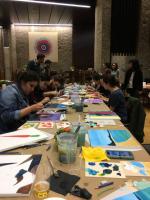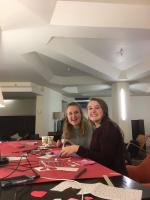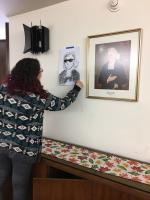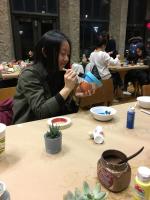 ---
Cookie Decorating with the Dean 2017
One of the many annual study breaks hosted in Stiles during finals period is cookie decorating with Dean P. Hundreds of cookies, tens of frosting colors, and millions of sprinkles make for a fun and sweet reprieve from hours in the library.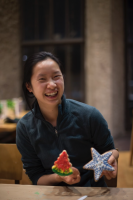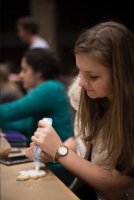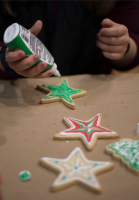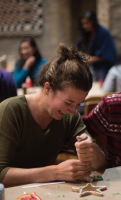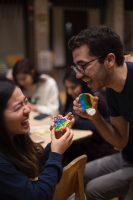 ---
Tree Decorating 2017 
On Sunday the 10th of December, students joined Head Pitti's family in the Head of College house to help decorate their Christmas tree, eat Christmas cookies, and drink hot cocoa.

---
Midnight Breakfast 2017 
During reading period, Stilesians swarmed into the Moose Butt to refuel with fluffy pancakes, moose tracks ice cream, and much, much more. Many thanks to SAC and Special Guest Chef Head Pitti for an amazing event!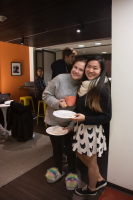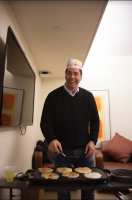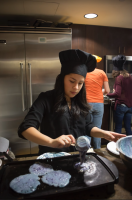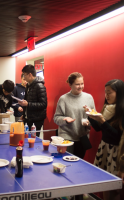 ---
Pumpkin Carving 2017
Right before Halloween, Ezra Stiles students gathered in the dining hall to carve pumpkins and compete to win movie tickets and moose swag!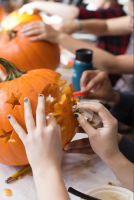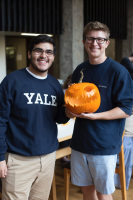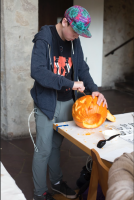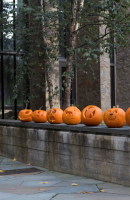 ---
Medieval (K)night 2017
Stilesians from all corners of campus came together to don Viking helmets, wield their shields, and fearlessly raid the lesser colleges of Morse, Franklin, and Murray! Ezra Stiles is, without a doubt, the greatest college of them all. And anyone who says otherwise shall have to answer to the Order of the Moose when when next we hunger for a raid…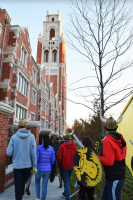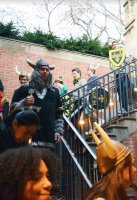 ---
Ezra Gala 2017
Sweet crepes, good music, twinkling lights, and the best company made this year's Ezra Gala in the Stiles courtyard a magical event.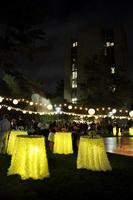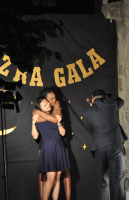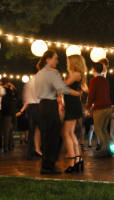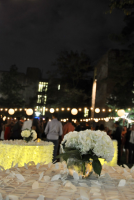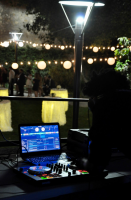 ---
Annual Apple Picking Trip 2017
Every year two buses of moose head to Lyman Orchards to pick apples, eat apple cider donuts, and celebrate the beginning of fall.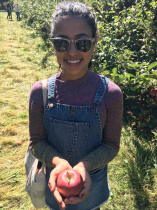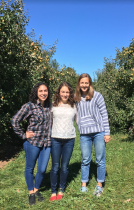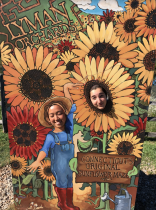 ---
Commencement 2017
Graduating seniors showing Stiles pride in the rain at this year's Old Campus Commencement ceremony.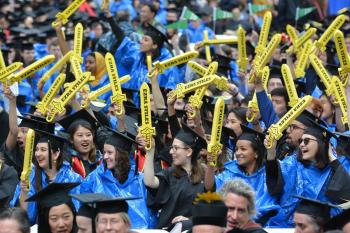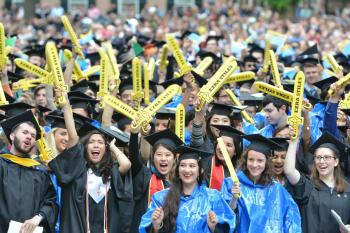 Senior Week 2017
Staff getting ready to celebrate our seniors at our annual Senior week courtyard event. This year's theme: Havana!
---
Medieval Knight 2017
Stilesians from all corners of campus came together to don Viking helmets, wield their shields, and fearlessly raid the lesser colleges of Davenport, Pierson, Branford, and Saybrook! Ezra Stiles is, without a doubt, the greatest college of them all. And anyone who says otherwise shall have to answer to the Order of the Moose when next we hunger for a raid….
---
Our massive schedule of events included our first-ever paint night and our annual open mic/coffeehouse.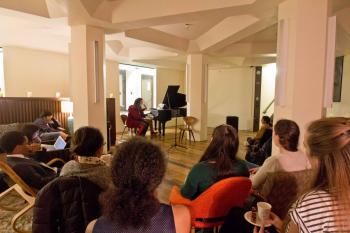 ---
Ezra Gala 2016
SAC transformed the best dining hall on campus into the classiest dance on campus.