College Teas allow a small gathering of students to speak with and ask questions of important guests that Head of College Camacho invites. Teas have hosted professional athletes, authors, actors, cartoonists, journalists, politicians, professors, and leaders from various industries. Students also enjoy tea, snacks, and Lisa's famous cookies. Teas are usually held in the afternoon in the Head of College's House. Keep an eye out for posters and emails throughout the academic year.
Dr. Eric P. Winer, April 2023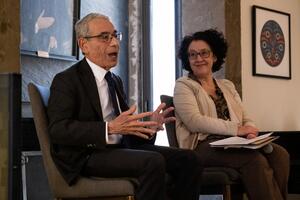 .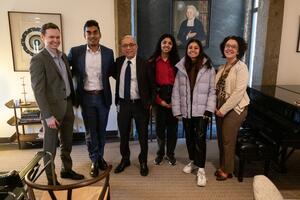 ---
U.S. Poet Laureate Ada Limón, February 2023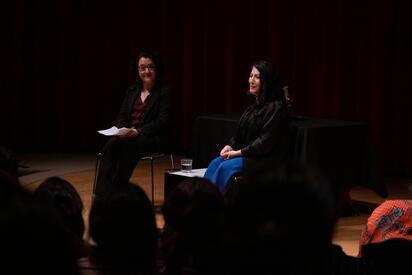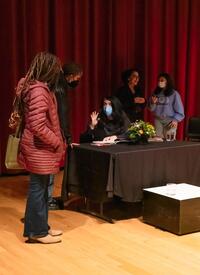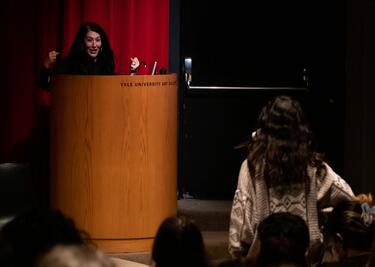 .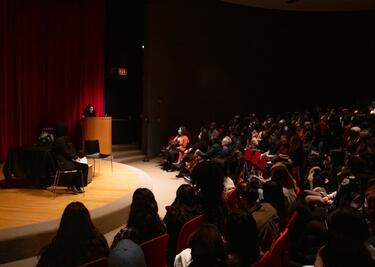 ---
Rebecca Kuang, February 2023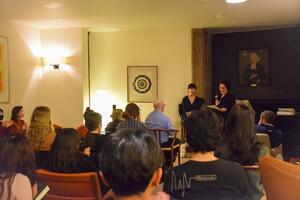 ---
Jamal Greene, November 2022
---
Jia Tolentino, October 2022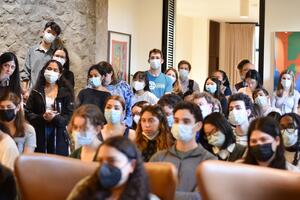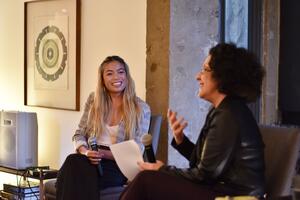 ---
Laura Jayne Tunbridge, April 2022
---
Livia Sobota, October 2021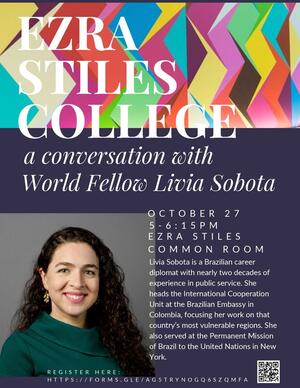 ---
Paola Velez, February 2020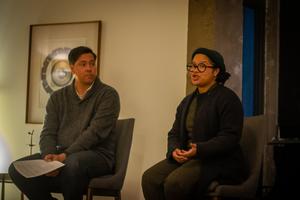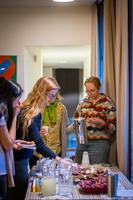 ---
Carla Minet & Luis Valentin Ortiz, October 2019
 
---
Amitava Kumar, November 2018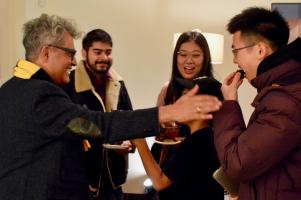 ---
Jason Stanley, November 2018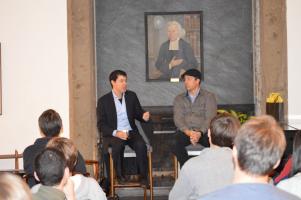 ---
David Begnaud, September 2018
---
Casa Monarca, November 2017
 
---
Migrant Justice, September 2017
---
Benjamin Grant, February 2017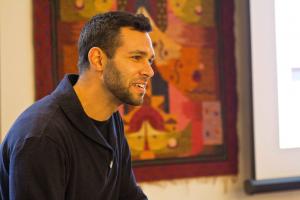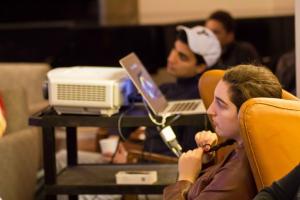 ---
Eli Kintish, December 2016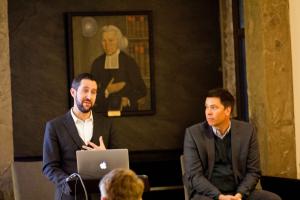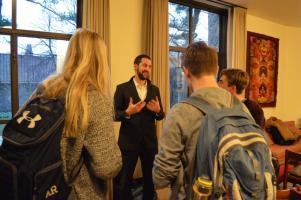 ---
Dr. Jeni Klugman, November 2016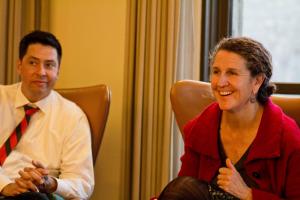 ---
Josh King, September 2016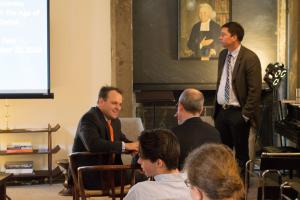 ---
Asma Jahangir, September 2016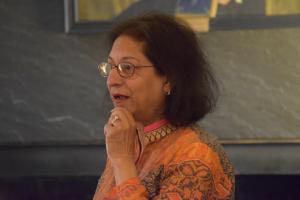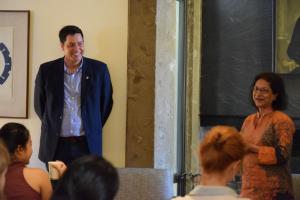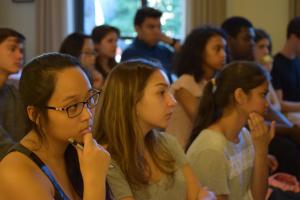 ---
Angélique Kidjo, January 2015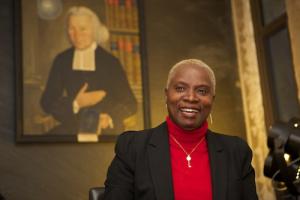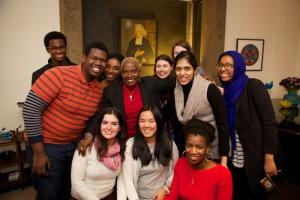 ---
Tea Photo Archive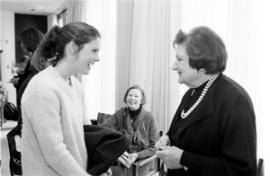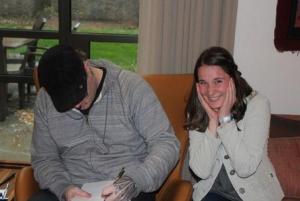 ---
Recent guests have included: 
Mina Kimes, Senior Writer at ESPN the Magazine and award winning investigative journalist
Hal Brooks, Artistic Director of the Pearl Theatre Company and the Cape Cod Theatre Project
Angélique Kidjo, Grammy Award–winning singer-songwriter and activist from Benin
Jeremy Scahill, National Security Correspondent for The Nation and Windham Campbell Prizewinner
Clifton Spargo, Author of Beautiful Fools: The Last Affair of Zelda and Scott Fitzgerald 
Cherríe Moraga, Writer, poet and playwright
Rob Sheffield, Contributing editor at Rolling Stone and author of Talking to Girls About Duran Duran: One Young Man's Quest for True Love and a Cooler Haircut. Yale Class of 1988.
Azie Dungey, Author of Ask a Slave featured on NPR, BBC, Gawker and Slate
David Lammy, An important figure in British politics and a member of the Greater London Assembly
Adepero Oduye, Nigerian-American Actress known for her performance in the film Pariah
Joann Lo, Executive director of the Food Chain Workers Alliance. Yale Class of 1997.
Zeca Camargo, Renowned Brazilian journalist and newscaster
David González, Award-winning co-editor of the New York Times Lens blog. Yale class of 1979.  
Kareem Abdul-Jabbar, former professional basketball player
Laila Al-Arian, writer and producer for Al Jazeera English 
Elizabeth Alexander, essayist, playwright, professor; recited original poem at 2009 Presidential Inaguration
Professor Giselle Anatol, literature professor, author
Jeremy Bargiel, cell phone applications developer; writer for Veggietales and Cartoon Network
Jennifer Baszile, author, Yale history professor
Moustafa Bayoumi, writer, English professor
Rubén Beltrán, Consul General of Mexico in New York
Larry Berman, UC Davis Professor of Political Science
Elisabeth Biondi, New Yorker Magazine visual editor
Richard Blanco, the 2013 Inaugural poet in his first post-inauguration public appearance
Anna Burger, Secretary-Treasurer of Service Employees International Union (SEIU)
Mark Cunningham, New York Post editor
David Darst, Managing Director and Chief Investment Strategist at Morgan Stanlet Smith Barney
Ruth DeGolia, co-founder of nonprofit trade organization Mercado Global
Kevin Delaney, Stiles alum and Editor-in-Chief of Quartz, a digital business magazine
Junot Díaz, author, The Brief Wondrous Life of Oscar Wao
Joshua Foer, author, 2006 USA Memory Champion
Scott Freiman, composer, producer, Beatles historian
Marcelo de Camargo Furtado, Greenpeace Brazil Executive Director
Marichal Gentry, Yale Dean of Student Affairs
Josh Goldman, founder and CEO of Australis Aquaculture
Jennifer Gordon, professor of immigration and labor law
Shujaa Graham, exhonerated death row inmate and activist
Marc Grossman, U.S. Special Envoy to Afghanistan and Pakistan
Vanita Gupta, civil rights lawyer, Deputy Legal Director of the American Civil Liberties Union
Bernard Gwertzman, journalist
Jeph Jacques, cartoonist, Questionable Content
Marc Hayashi, Japanese-American actor and theater director
Cathy Horyn, New York Times fashion critic
Joe Kane, journalist, author
Mitch Kapor, Mozilla founder
Robert D. Kaplan, National Correspondent for the Atlantic Monthly
Lloyd Kaufman, film director, producer, screenwriter, actor
Linda Kerber, American historian, professor
Sarah Kernochan, documentarian, fim director, screenwriter, producer
Neelima Khetan, chief executive of Seva Mandir
Stephen Kieran, founder of sustainable design architecture firm KieranTimberlake
Shirley Knight, actress,Desperate Housewives, Our Idiot Brother
Brendan Koerner, contributing editor for Wired magazine
Ben LaBolt, Press Secretary for President Obama's Reelection Campaign
Mariam Lam, comparative literature professor 
Chang-rae Lee,  Korean American novelist and creative writing profesor
Richard Lester, film director, A Hard Day's Night
Dave Levin, founder of KIPP Charter Schools
Dr. Timothy Light, scholar of East Asian languages and literature
Felix Maradiaga, International Management Consultant at Management Systems International in Nicaragua
Betita Martínez, Chicana feminist, community organizer, activist, author
Joyce Maynard, author
Laura McCarger, founder of Youth Rights Media
Frances McDormand, actress, North Country, Burn After Reading
Richard Montoya, playwright, "American Night: The Ballad of Juan Jose"
Linda Moreno, defense attorney specializing in national security and terrorism cases
Javier Morillo-Alicea, president of Service Employees International Union in the Twin Cities, leader of OutFront Minnesota
Robert Nave, death penalty abolition advocate
Anahad O'Connor, reporter for the New York Times
Odili, modern artist
Gary Okihiro, professor of international and public affairs
Vitaly Patsyukov, head curator of the Center for Contemporary Art in Moscow
Tom Periello, former U.S. Representative for Virginia's 5th congressional district
Nate Persily, law professor
Andre Petry, journalist for VEJA, Brazil's leading news magazine
Caryl Phillips, author, professor
Sam Quiñones, journalist, freelance writer in Mexico
Governor Bill Richardson, former governor of New Mexico
Lara Setrakian, Middle East correspondent for Bloomberg Television
Kamila Shamsie, Pakistani American novelist
Cindy Sheehan, anti-war activist
Brent Staples, editorial writer for the New York Times, author
JC de Swaan, Princeton economics professor
Senator José Serrano, New York State Senator
Chaske Spencer, actor, Twilight
Strobe Talbott, American foreign policy analyst, Deputy Secretary of State
Andre Leon Talley, American editor-at-large for Vogue
Alan Taylor, historian
Helen Thomas, White House Press Corps member
Gabriel Thompson, author, journalist
Christina Weiss-Lurie, film producer
Bob Woodward, investigative journalist