Welcome to Ezra Stiles College!
Dear Class of 2024, we are thrilled to call you Stilesians! Each entering class expands our horizons and enriches our traditions of friendship and collective learning. Even as you begin your college career during a time of uncertainty and challenge, your residential college will be here to help you thrive. Whether on-line or in person, we look forward to getting to know you and helping you navigate this wondrous time in your life. Stiles College has a distinctive history within Yale College and New Haven, it has been home to students who pushed the boundaries of the university to be more inclusive, to embrace new fields of knowledge, and to engage with the pressing social concerns of the day. We want this place of exceptional buildings and facilities to be your home, and to be as familiar as the back of your hand. So while current conditions constrain our ability to come together in person, know that our dedicated staff members and student leaders have been devising creative ways to connect with you and make you feel seen. We look forward to the moment when we can restore full activity in the college and initiate you in all of its charms.
We will be sending you information about your move-in, which will take place during the week of August 24. For now, get acquainted with Stiles through our website and Facebook page. You can read about Dean Murphy Temple, about me, and our wonderful Stiles team, and you can find helpful instructions for mail.  Explore the First-Year and New Student Resources page and be sure you've activated your NetID and Yale email account. Your first-year counselors will be reaching out, and you will have lots of support as you register for courses and settle in.
Please consult the Yale College Deans Office FAQ page for crucial information about public health precautions, important deadlines, and student support services. Your parents and family members can also find answers to their questions here.
In coming days, you can expect to hear how we plan on celebrating you and introducing you to this special college. Stiles is a college of remarkable artists, international students, athletes, musicians, and much more. If some of our distinctive activities have to wait until we can be together safely, know that the spirit of the moose will inspire us to invent new ways to be community. Good humor, openness, and friendship are never in short supply here.
Your rooms have been prepared with extra care. Each room has a bed, desk, chair, and dresser, so you will not need to bring furniture. You will find that your welcome bag includes some items for safe socializing and enjoying the outdoor spaces of the college. Wear your Stiles colors with pride; you are now one of the herd.
One Love, One Moose!!!
Alicia Schmidt Camacho
Head of Ezra Stiles
---

We are so proud to celebrate our graduates — Stilesians from around the world who have excelled across the Yale curriculum. We love these people, we appreciate the families and communities that have supported them, and we expect that as alumni they will do great work in the years to come. 
---
The College honors graduating seniors who have made exceptional contributions to the Ezra Stiles community over the last four years. The list is here.
---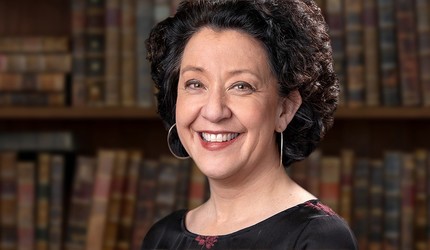 ---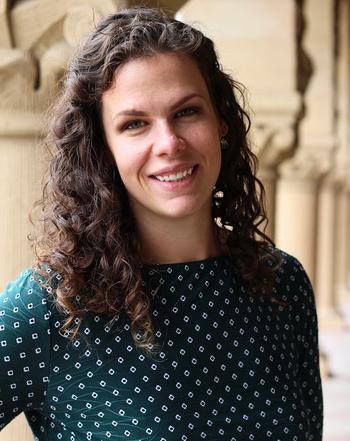 ---
Recently in Stiles
Senior Celebration
With much onscreen laughter and offscreen sobbing, more than 80 seniors attended a virtual senior celebration on April 28, 2020 featuring toasts, superlatives, awards, and an amazing slideshow. Moose love forever, Stiles 2020!

---
Dean P Celebration
The Herd showed up to the house to celebrate Dean P and her family as she approached her last weeks as Dean of Ezra Stiles College (sigh). Highlights included a ton of genuine Sri Lankan food, a slideshow, and a custom-made YDN front page full of (mostly real) stories from Dean P's time as a Yale student and her and her family's time in Stiles. Bonus fun: Spontaneous raucous cheering for members of the victorious innertube water polo team as they arrived, wet hair and all, at the event!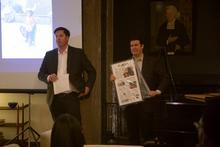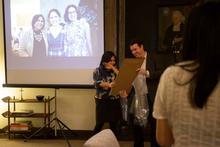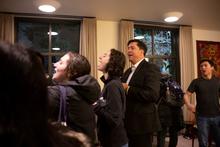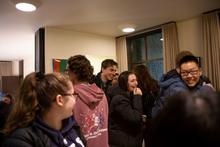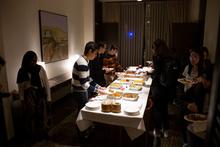 ---
Innertube Water Polo Champions!
Led by a determined group of seniors, the Stiles Innertube Water Polo team won the championship in overtime in front of dozens of cheering Stilesians! Congratulations!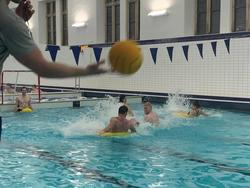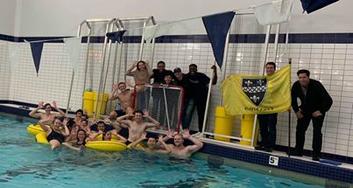 ---
Dean P's Star Wars-themed Fun Brunch
Dean P's Star Wars-obsessed children had never seen a Star Wars movie, so it just made sense for her to host a Star Wars-themed Fun Brunch in the dining hall featuring Star Wars: A New Hope. Darth was unable to lure our moose to the Dark Side (i.e., Morse).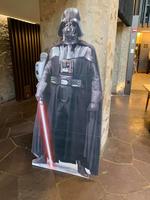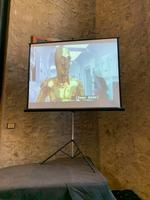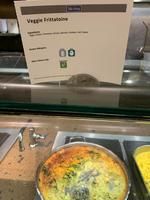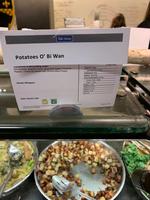 ---
Stiles Film Festival
Stiles's 5th Film Festival was celebrated this past Friday by the moose, their friends, and a very special corgi named Coco. Congratulations to all the Golden Moose winners!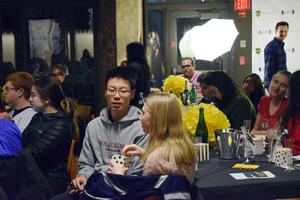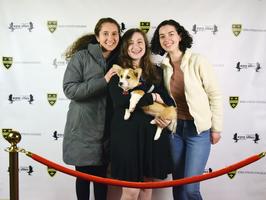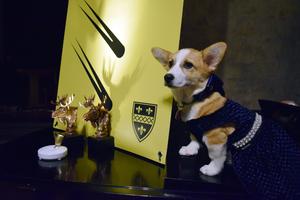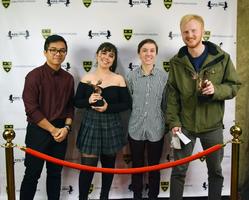 ---
Arts Week
Students planted succulents, painted pet rocks, and played beautiful music during our annual Arts Week.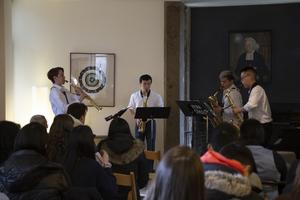 ---
Dumpling Making
Stiles made dumplings to kick off the Year of the Rat!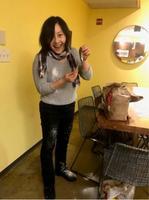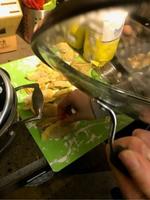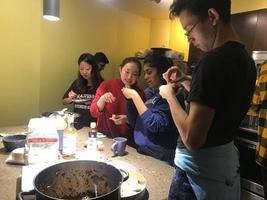 ---
Contra Dance
Stilesians and their guests enjoyed a great contra dance in the dining hall!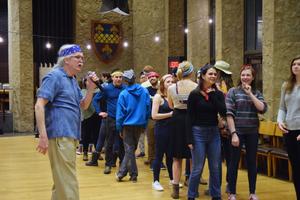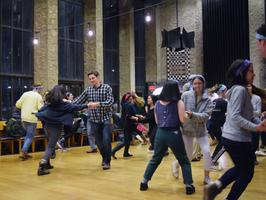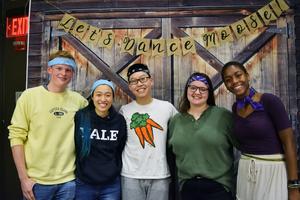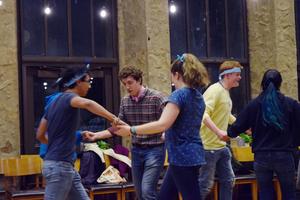 ---
Holiday festivities
Before leaving for winter break, Stiles students celebrated the end of the year with a variety of activities, including a tree decorating party in the Head of College House and a cheese tasting study break!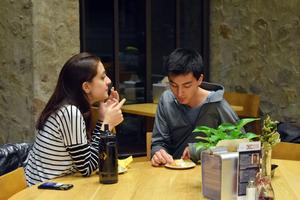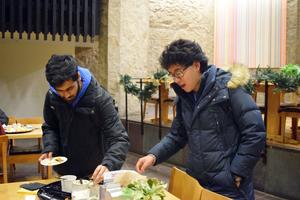 ---
Ezra Gala
The Graduate Club of New Haven was filled with glamorous Stilesians in a night filled with jazz, a DJ, good food, and even better friends.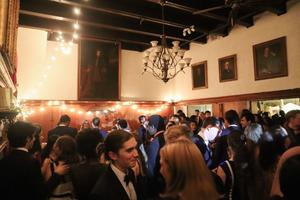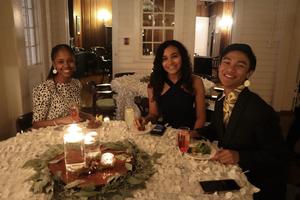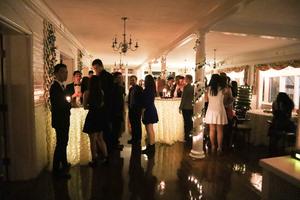 ---
It's the Great Pumpkin, Ezra Stiles!
Stilesians took a break from studying for midterms to participate in our annual pumpkin-carving competition and enjoy donuts (and pumpkin guts!) with their friends.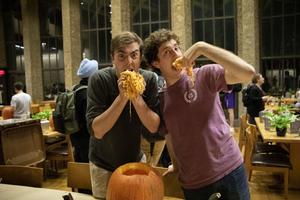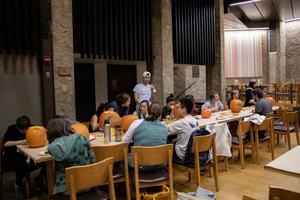 ---
Apple Picking Trip
Two busloads of Stilesians enjoyed treats and cider at Lyman Orchards, gathering apples to bake pies in the student kitchen!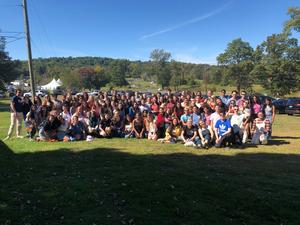 ---
Foxy Friday's Return
After seven years, this jazzy dinnertime tradition has returned! Stilesians, on the last Friday of each month, will now enjoy live music and some warm mood lighting.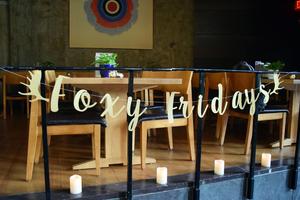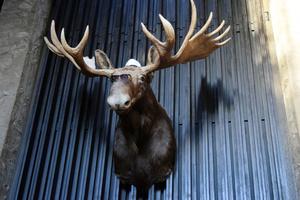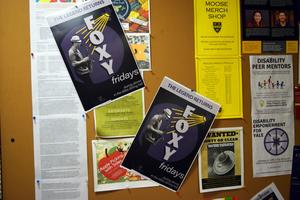 ---
New Haven Road Race
On Labor Day, a whole herd of Stilesians ran through the streets of the Elm City together, finishing the 5k race wearing smiles on their faces, and tall black and yellow socks on their feet!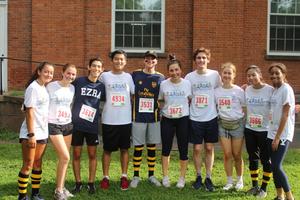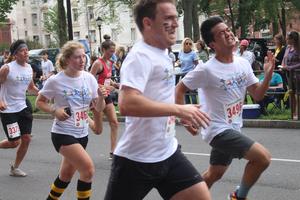 ---
First-Year Dinner
First-year moose enjoyed a beautiful meal while Head Pitti explained the history and traditions of Ezra Stiles College.
---
Welcome BBQ 2019
Ezra Stiles kicked off the year with a barbeque introducing the first-years to the college and the upper-level students.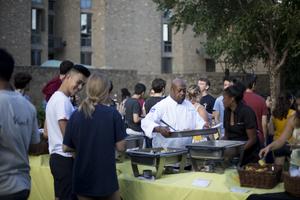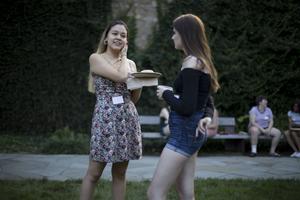 ---
Move-In  2019
Ezra Stiles sophomores, juniors, and seniors welcomed the newest members of the colleges - 111 first-year students - on August 22nd as they moved into Stiles's residences on Old Campus, Lawrance Hall. We are so excited for them to start classes and beign their college careers!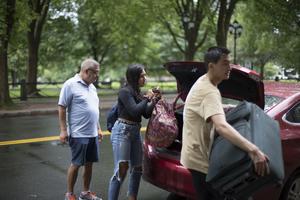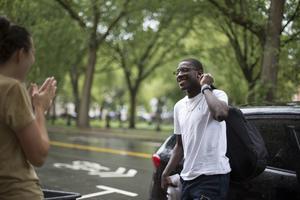 ---
For more photos from past Ezra Stiles College events, please visit our Past Event Highlights page.