Welcome to Ezra Stiles College!
Recently in Stiles
Spring Pranks~
The residents of Morse College were surprised to find that their banners spelling out their college's name had been upgraded Wednesday. Looks like Ezra Stiles is gaining new annex housing!
---
Stiles Celebrates Achievements~
The weekend of April 6-8th Stiles first-years won the First-Year Olympics, and a Stiles-Trumbull team of chefs won third place in the Yale Final Cut undergraduate cooking competition. Congratulations to everyone involved!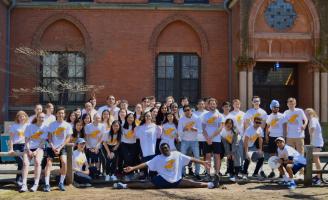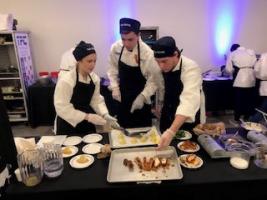 ---
Pub Night~
Every Sunday evening, the Dining Hall is open to Stilesians only for Family Night. This past weekend we celebrated Pub Night with typical British fare, music, and merriment!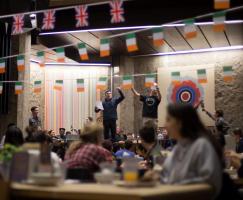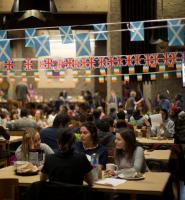 ---
Celebrating Arts Week~ 
Over the course of a week, Stiles students performed music, showed off their dance moves, and expressed their inner artists. Some notable events pictured below are the coffee-house open-mic night, the Ezra Stiles Film Fest, and Classical Brunch.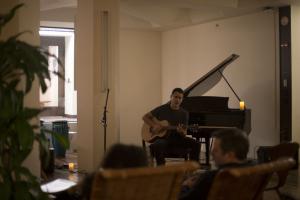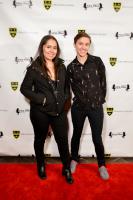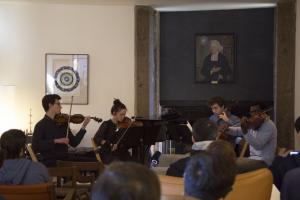 ---
Superbowl Celebration~
The dining hall was converted into a Superbowl watch party on Sunday, February 3rd. Rams and Patriots fans alike enjoyed the Snackbowl and shared good food with good company.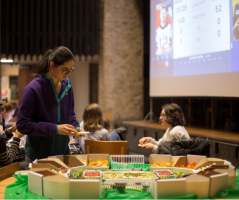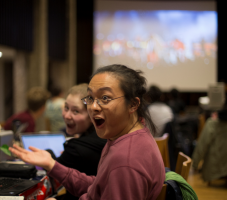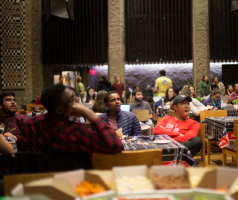 ---
Winter Stiles~
Stiles students celebrated the end of the year with hearty carols, festive study breaks, and good cheer as they hunkered down to study for their fall semester finals.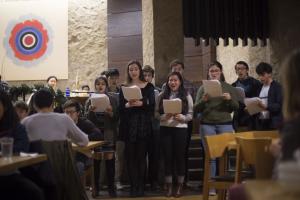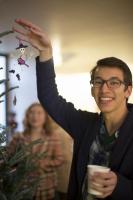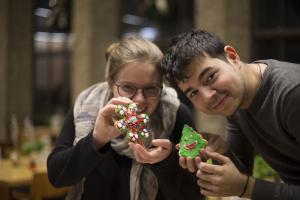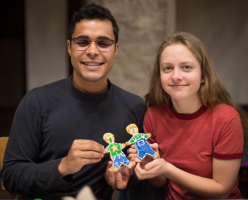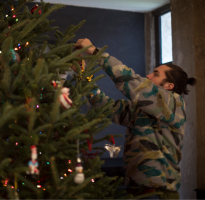 ---
Ezra Gala~
The night was partied away in a festive evening of dancing, good food, and good friends at the Graduate Club.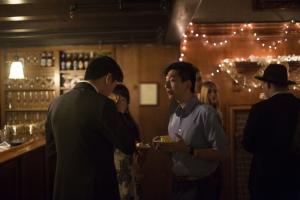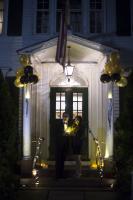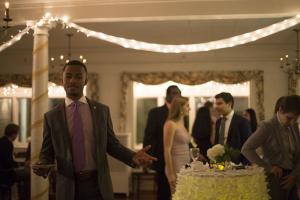 ---
Apple Picking~ 
Students piled into a couple busses and explored Connecticut's apple orchards, chomping on and picking apples, in a quintessential New England fall activity.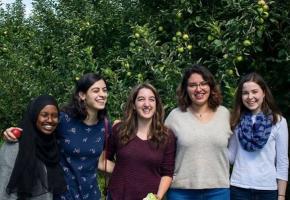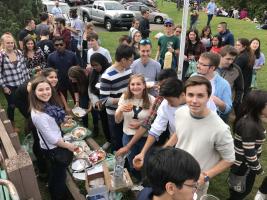 ---
Smore's Night~ 
The college celebrated the end of  summer with a smore's-roasting bonfire, taking advantage of the last, few warm evenings before fall sets in.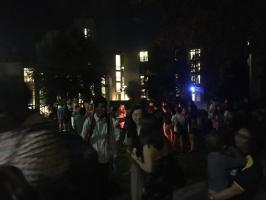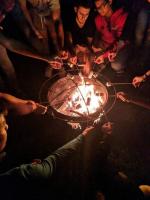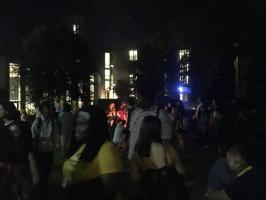 ---
Big-Little Sib Cookout 2018~ 
The first-year students took advantage of Stiles's green, grassy courtyard and got to meet some of their fellow Stilesians over juicy burgers and sweet, summer corn.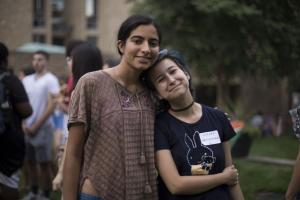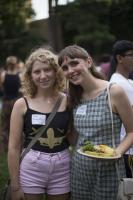 ---
First-Year Reception 2018~ 
After move-in, Head Pitti's house was opened up to the families of the newest members of the Moose Herd.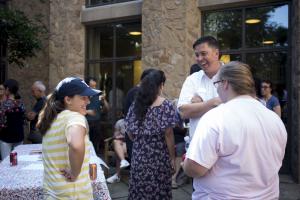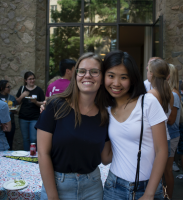 ---
First-Year Move-In 2018~ 
It was a hot, exciting day as the newest members of Ezra Stiles moved into their dorms and met their new roommates for the first time! Older Stiles students joined in on the fun, helping carry first-year's things into their dorms.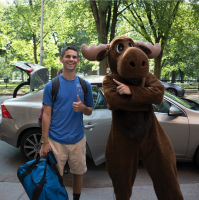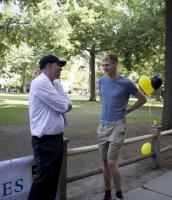 ---
Commencement 2018~ 
On May 21st, 115 Stiles seniors recieved their Yale diplomas in the college courtyard surrounded by family and friends. While we are sad to see them go, we know they are off to do great things.  Forever part of the Herd!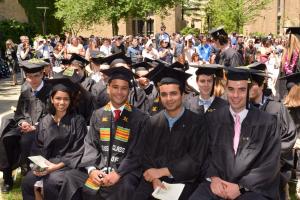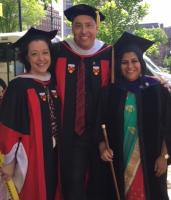 ---
Senior Week Sidewalk Cafe 2018, Paris! ~ 
For this Stiles Senior Week tradition, the Common Room was transformed into a Paris bistro and our Seniors enjoyed a fun evening of authentic French crepes, wine, and music in the company of classmates.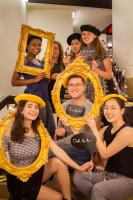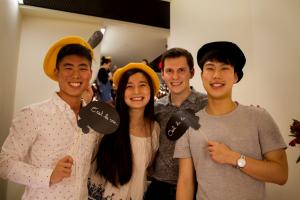 ---
Sushi Study Break 2018~ 
The Sushi Study Break featuring more sushi than any moose could possibly dream of, kicked off a week of study breaks to keep Stilesians happy and healthy during exams.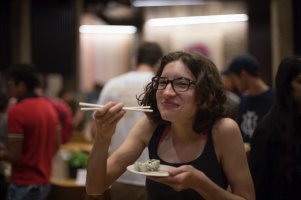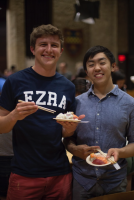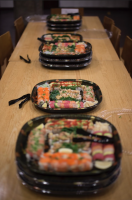 ---
Class of 2018 Senior Dinner~ 
On May 2nd we celebrated our graduating seniors with a reception and dinner in their honor. The night featured speeches by Head of College Pitti and Dean Parndigamage, toasts by seniors, an ceremony for annual college awards, and a slideshow from the past four years.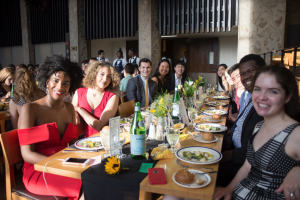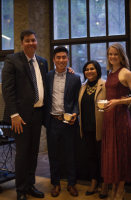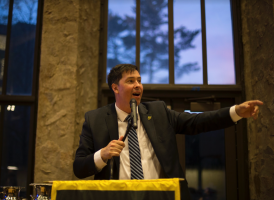 ---
Courtyard Easter Egg Hunt 2018~ 
On April 1st clever moose searched the college courtyard where hundreds of eggs full of chocolate, jelly beans, and a few April Fools jokes had been hidden.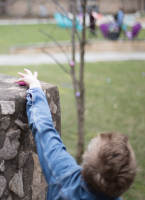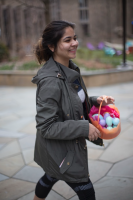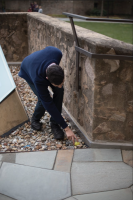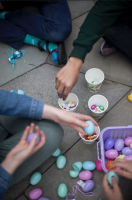 ---
The Ezra Stiles Film Festival 2018~ 
This February, thanks to several dedicated students and our incredible college staff, the Ezra Stiles Film Festival was brought back better than ever. The festival featured films by our talented Stilesians, as well as those by students in other residential colleges. Golden Moose trophies were awarded by an esteemed panel of judges, and everyone who attended went home with a swag bag far better than those given out at Hollywood award ceremonies.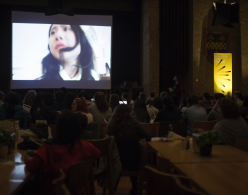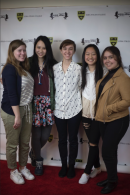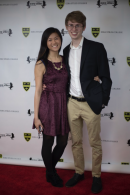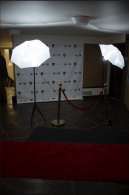 ---
Arts Week 2018~ 
Every year, the Ezra Stiles Arts Week Committee puts together a fabulous week of opportunities for Stilesians to explore their creative sides. This year featured a special student showcase in the Stiles Art Gallery, houseplant party, dance showcase, pet rock rumble, V-day card workshop, and more!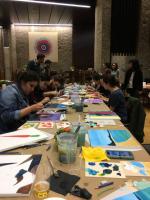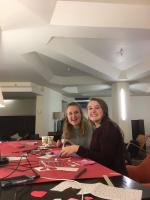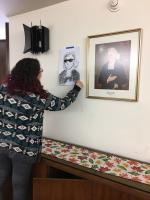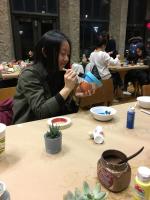 ---
Cookie Decorating with the Dean 2017~ 
One of the many annual study breaks hosted in Stiles during finals period is cookie decorating with Dean P. Hundreds of cookies, tens of frosting colors, and millions of sprinkles make for a fun and sweet reprieve from hours in the library.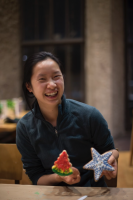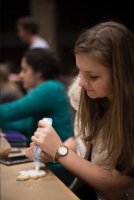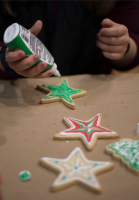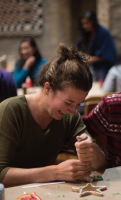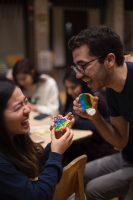 ---
Tree Decorating 2017~ 
On Sunday the 10th of December, students joined Head Pitti's family in the Head of College house to help decorate their Christmas tree, eat Christmas cookies, and drink hot cocoa.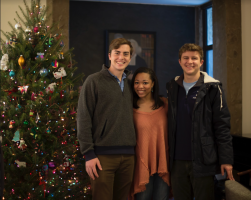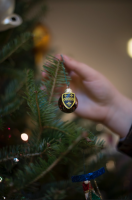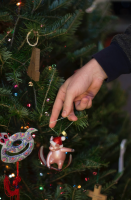 ---
Midnight Breakfast 2017~ 
During reading period, Stilesians swarmed into the Moose Butt to refuel with fluffy pancakes, moose tracks ice cream, and much, much more. Many thanks to SAC and Special Guest Chef Head Pitti for an amazing event!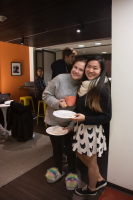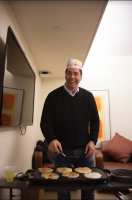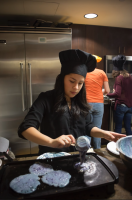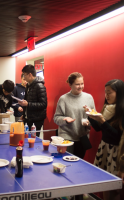 ---
Pumpkin Carving 2017~
Right before Halloween, Ezra Stiles students gathered in the dining hall to carve pumpkins and compete to win movie tickets and moose swag!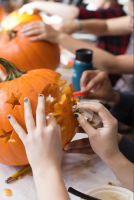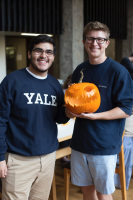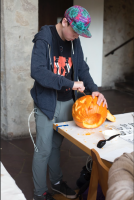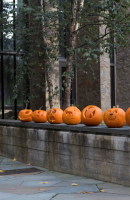 ---
Medieval (K)night 2017~
Stilesians from all corners of campus came together to don Viking helmets, wield their shields, and fearlessly raid the lesser colleges of Morse, Franklin, and Murray! Ezra Stiles is, without a doubt, the greatest college of them all. And anyone who says otherwise shall have to answer to the Order of the Moose when when next we hunger for a raid…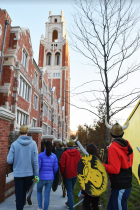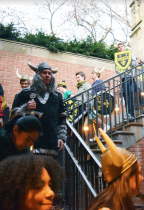 ---
Ezra Gala 2017~
Sweet crepes, good music, twinkling lights, and the best company made this year's Ezra Gala in the Stiles courtyard a magical event.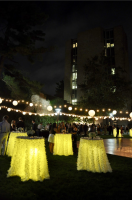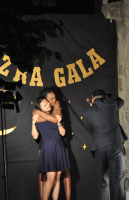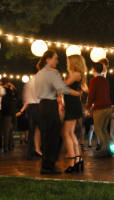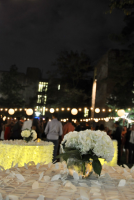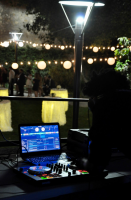 For more photos from past Ezra Stiles College events, please visit our Past Event Highlights page.