Welcome to Ezra Stiles College!
Welcome Ezra Stiles 2022! Congratulations New Stilesians!
Hurray! The sorting hat has placed you in the college of moose, vikings, wood-brick pizza, artists, muralists, international students, athletes and IM superstars … and many of the best people on campus. We have a great history, and an awesome building with beautiful facilities, and you might be interested to see the online list of some of our more prominent alums. We can't wait to meet you in August, and we hope you'll bring your energy and excitement to this place when you arrive. In the meantime, explore this website, our Facebook pages (here and here), and the frosh counselor page. You can read about Dean Parndigamage ("Dean P"), and about me and others on our staff, at our college website. If you're thinking about sending packages to New Haven, you'll find information about mailing instructions in the Yale College First-Year Handbook and our Ezra Stiles site.
If your parents or other family members have questions, you might refer them to this website. And if you'd like to know more about New Haven, you might start here.
I'll see you when you move into Lawrance Hall on Old Campus on August 24th if not before. Please plan on joining us that afternoon at 4pm for a welcome reception in the Ezra Stiles Head of College's House — and bring any family members or friends who are in town. We are eager to meet them, as well!
You should know that Lawrance Hall is furnished — with beds and dressers and desks in the bedrooms, and sofas and chairs and coffee tables in each suite's common room. This means that you really shouldn't need to bring any furniture at all to set up your rooms. (Lamps are often in short supply, however, so you might consider bringing or purchasing a light or two.)
Some quick requests: Please activate your NetID and start checking your Yale e-mail account since you will receive important messages over the summer. You will find important deadlines and other information here, and the Yale academic calendar.
We can't wait to see you in August!
One Love, One Moose!!!
Stephen Pitti
Head of Ezra Stiles
---
Recently in Stiles
Commencement 2018~ 
On May 21st, we celebrated the commencement of the Stiles Seniors. The seniors recieved their diplomas in the college courtyard surrounded by family and friends. While we're sad to see them go after eight semesters, we know they're off to do great things. Thank you, Seniors!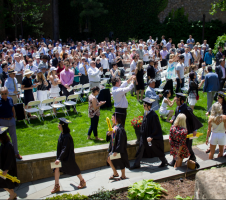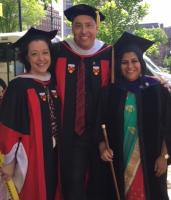 ---
Paris Night 2018~ 
The seniors celebrated graduation and danced the night away in the Stiles common room, which was magically transformed into a Paris bistro. The party was cated by Crepe Choupette, and there was plenty of treats, laughs and memories shared over the course of the night.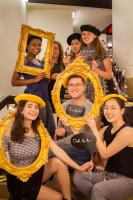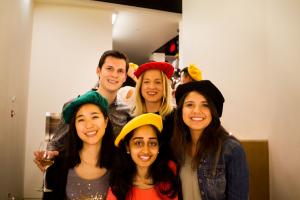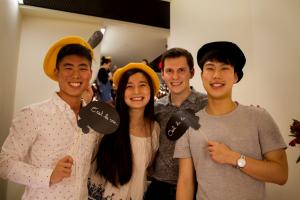 ---
Sushi Study Break 2018~ 
After a five year hiatus, Head of College Pitti brought back The Sushi Study Break featuring more sushi than any moose could possibly dream of. This event is just the start of a week of study breaks to keep Stilesians happy and healthy during exams.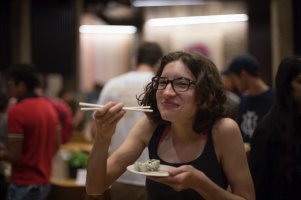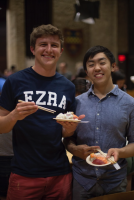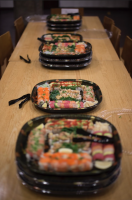 ---
Class of 2018 Senior Dinner~ 
On May 2nd we celebrated our wonderful senior class with a reception and dinner in the college. The night featured speeches by Head of College Pitti and Dean Parndigamage, toasts by seniors, an ceremony for annual college awards, and a slideshow from the past four years.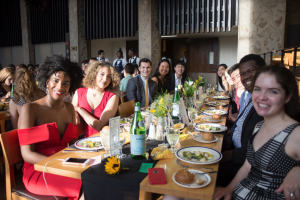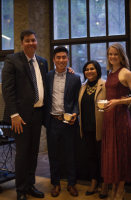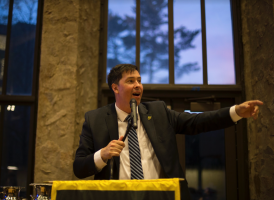 ---
Courtyard Easter Egg Hunt 2018~ 
On April 1st clever moose searched the college courtyard where hundreds of eggs full of chocolate, jelly beans, and a few April Fools jokes had been hidden.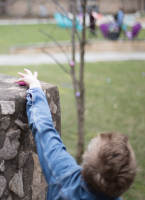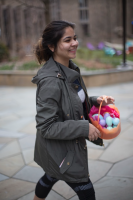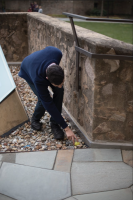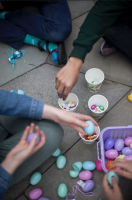 The Ezra Stiles Film Festival 2018~ 
This February, thanks to several dedicated students and our incredible college staff, the Ezra Stiles Film Festival was brought back better than ever. The festival featured films by our talented Stilesians, as well as those by students in other residential colleges. Golden Moose trophies were awarded by an esteemed panel of judges, and everyone who attended went home with a swag bag far better than those given out at Hollywood award ceremonies.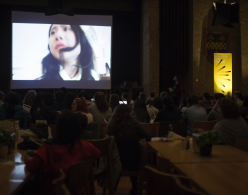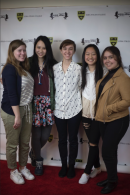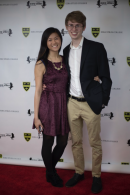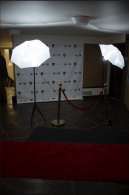 ---
Arts Week 2018~ 
Every year, the Ezra Stiles Arts Week Committee puts together a fabulous week of opportunities for Stilesians to explore their creative sides. This year featured a special student showcase in the Stiles Art Gallery, houseplant party, dance showcase, pet rock rumble, V-day card workshop, and more!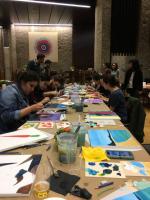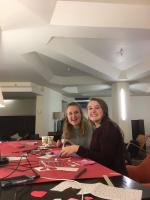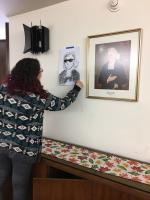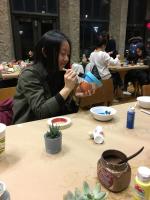 ---
Cookie Decorating with the Dean 2017~ 
One of the many annual study breaks hosted in Stiles during finals period is cookie decorating with Dean P. Hundreds of cookies, tens of frosting colors, and millions of sprinkles make for a fun and sweet reprieve from hours in the library.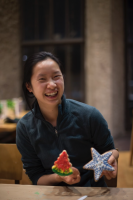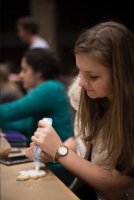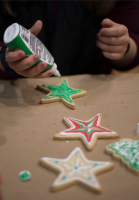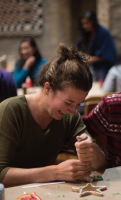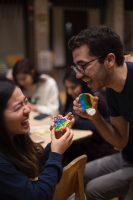 ---
Tree Decorating 2017~ 
On Sunday the 10th of December, students joined Head Pitti's family in the Head of College house to help decorate their Christmas tree, eat Christmas cookies, and drink hot cocoa.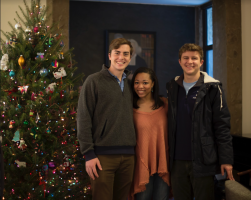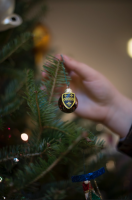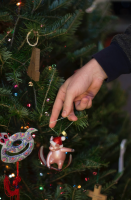 ---
Midnight Breakfast 2017~ 
During reading period, Stilesians swarmed into the Moose Butt to refuel with fluffy pancakes, moose tracks ice cream, and much, much more. Many thanks to SAC and Special Guest Chef Head Pitti for an amazing event!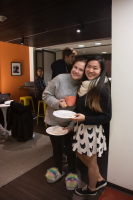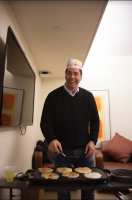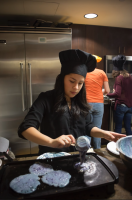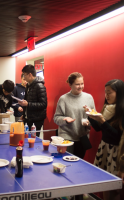 ---
Pumpkin Carving 2017~
Right before Halloween, Ezra Stiles students gathered in the dining hall to carve pumpkins and compete to win movie tickets and moose swag!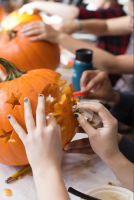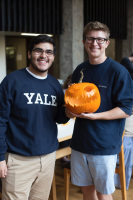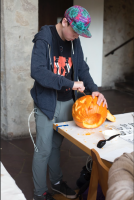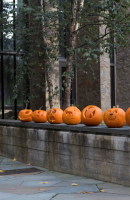 ---
Medieval (K)night 2017~
Stilesians from all corners of campus came together to don Viking helmets, wield their shields, and fearlessly raid the lesser colleges of Morse, Franklin, and Murray! Ezra Stiles is, without a doubt, the greatest college of them all. And anyone who says otherwise shall have to answer to the Order of the Moose when when next we hunger for a raid…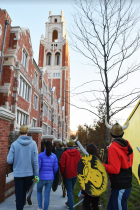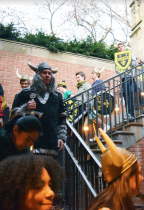 ---
Ezra Gala 2017~
Sweet crepes, good music, twinkling lights, and the best company made this year's Ezra Gala in the Stiles courtyard a magical event.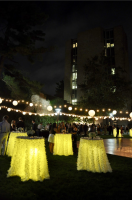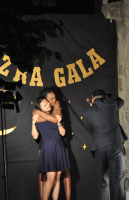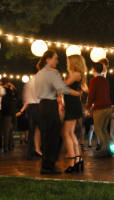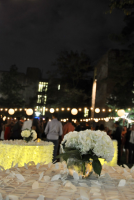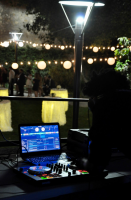 ---
Annual Apple Picking Trip 2017~
Every year two buses of moose head to Lyman Orchards to pick apples, eat apple cider donuts, and celebrate the beginning of fall.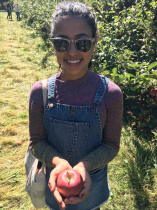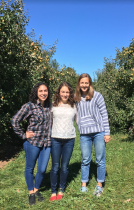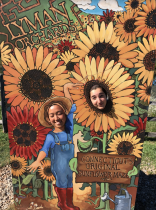 ---
For more photos from past Ezra Stiles College events, please visit our Past Event Highlights page.