We are so proud to celebrate our graduates — Stilesians from around the world who have excelled across the Yale curriculum. We love these people, we appreciate the families and communities that have supported them, and we expect that as alumni they will do great work in the years to come. 
The College honors graduating seniors who have made exceptional contributions to the Ezra Stiles community over the last four years. The list is here.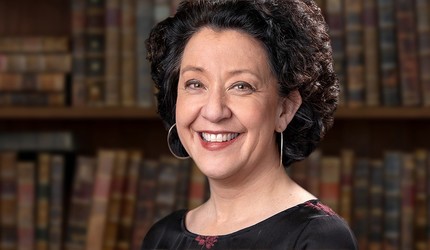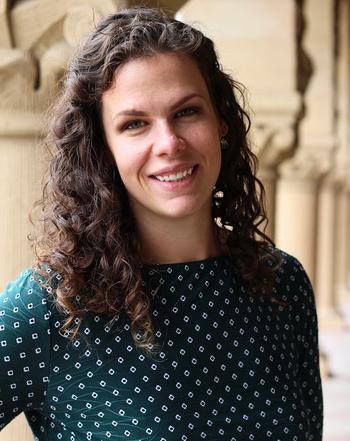 Recently in Stiles
Senior Celebration
With much onscreen laughter and offscreen sobbing, more than 80 seniors attended a virtual senior celebration on April 28, 2020 featuring toasts, superlatives, awards, and an amazing slideshow. Moose love forever, Stiles 2020!

Dean P Celebration
The Herd showed up to the house to celebrate Dean P and her family as she approached her last weeks as Dean of Ezra Stiles College (sigh). Highlights included a ton of genuine Sri Lankan food, a slideshow, and a custom-made YDN front page full of (mostly real) stories from Dean P's time as a Yale student and her and her family's time in Stiles. Bonus fun: Spontaneous raucous cheering for members of the victorious innertube water polo team as they arrived, wet hair and all, at the event!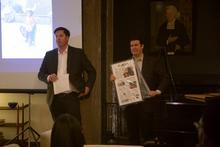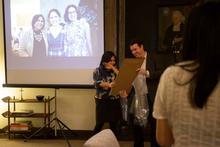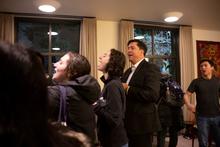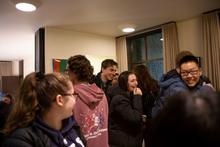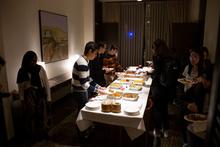 Innertube Water Polo Champions!
Led by a determined group of seniors, the Stiles Innertube Water Polo team won the championship in overtime in front of dozens of cheering Stilesians! Congratulations!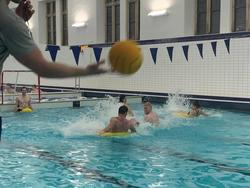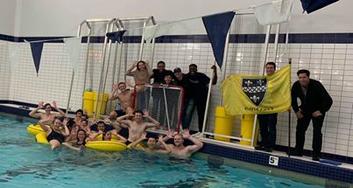 Dean P's Star Wars-themed Fun Brunch
Dean P's Star Wars-obsessed children had never seen a Star Wars movie, so it just made sense for her to host a Star Wars-themed Fun Brunch in the dining hall featuring Star Wars: A New Hope. Darth was unable to lure our moose to the Dark Side (i.e., Morse).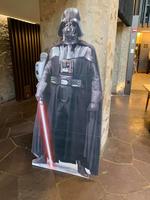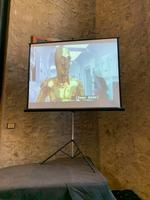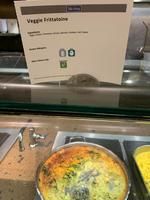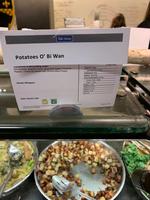 Stiles Film Festival~
Stiles's 5th Film Festival was celebrated this past Friday by the moose, their friends, and a very special corgi named Coco. Congratulations to all the Golden Moose winners!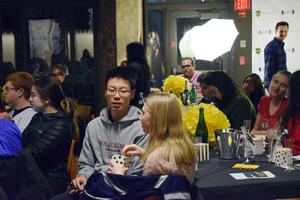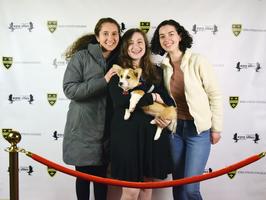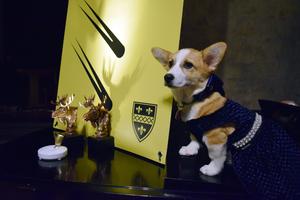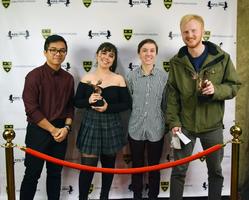 ---
Arts Week~
Students planted succulents, painted pet rocks, and played beautiful music during our annual Arts Week.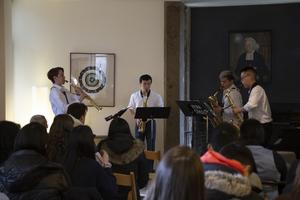 ---
Dumpling Making~
Stiles made dumplings to kick off the Year of the Rat!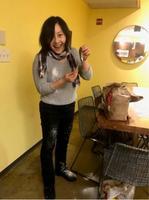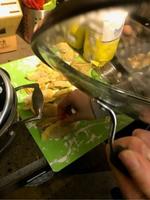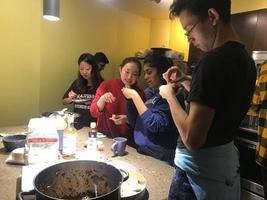 ---
Contra Dance~
Stilesians and their guests enjoyed a great contra dance in the dining hall!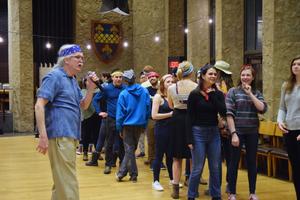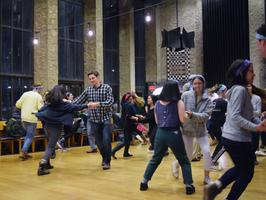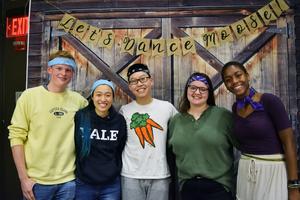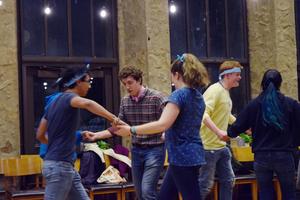 ---
Holiday festivities~
Before leaving for winter break, Stiles students celebrated the end of the year with a variety of activities, including a tree decorating party in the Head of College House and a cheese tasting study break!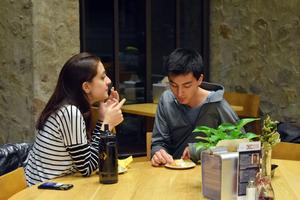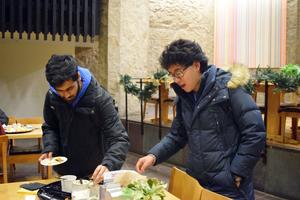 ---
Ezra Gala~
The Graduate Club of New Haven was filled with glamorous Stilesians in a night filled with jazz, a DJ, good food, and even better friends.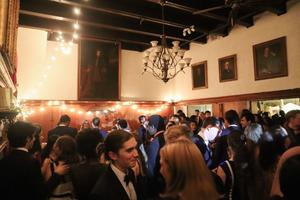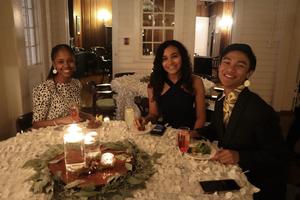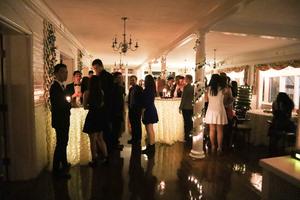 ---
It's the Great Pumpkin, Ezra Stiles!
Stilesians took a break from studying for midterms to participate in our annual pumpkin-carving competition and enjoy donuts (and pumpkin guts!) with their friends.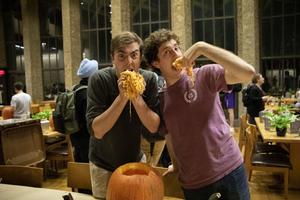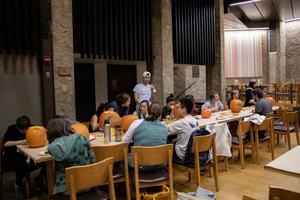 ---
Apple Picking Trip~
Two busloads of Stilesians enjoyed treats and cider at Lyman Orchards, gathering apples to bake pies in the student kitchen!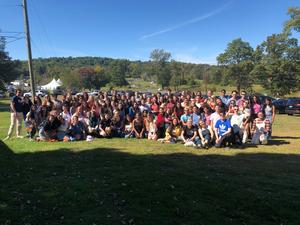 ---
Foxy Fridays Return~
After seven years, this jazzy dinnertime tradition has returned! Stilesians, on the last Friday of each month, will now enjoy live music and some warm mood lighting.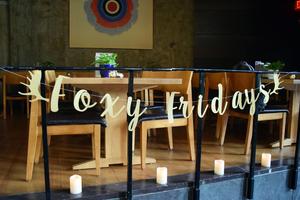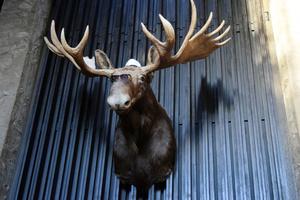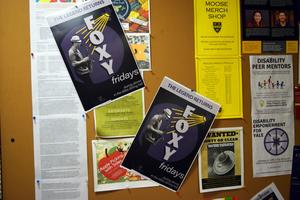 ---
New Haven Road Race~
On Labor Day, a whole herd of Stilesians ran through the streets of the Elm City together, finishing the 5k race wearing smiles on their faces, and tall black and yellow socks on their feet!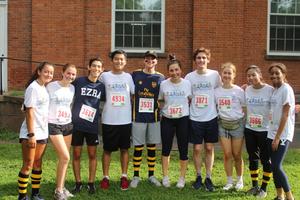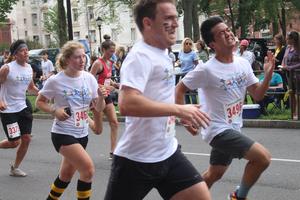 ---
First-Year Dinner~
First-year moose enjoyed a beautiful meal while Head Pitti explained the history and traditions of Ezra Stiles College.
---
Welcome BBQ 2019~
Ezra Stiles kicked off the year with a barbeque introducing the first-years to the college and the upper-level students.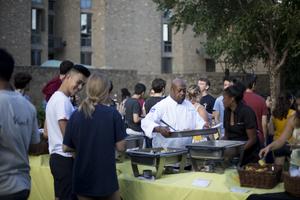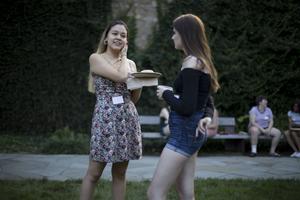 ---
Move-In  2019~
Ezra Stiles sophomores, juniors, and seniors welcomed the newest members of the colleges - 111 first-year students - on August 22nd as they moved into Stiles's residences on Old Campus, Lawrance Hall. We are so excited for them to start classes and beign their college careers!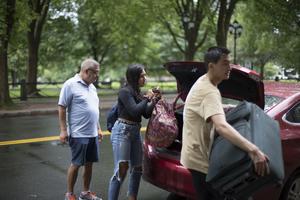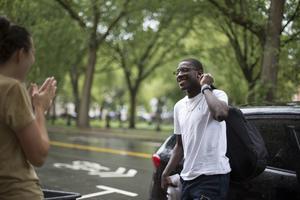 ---
Commencement 2019~
On May 20th, 115 Stiles seniors recieved their Yale diplomas from Head Pitti and Dean P in the Stiles courtyard with hundreds of family and friends cheering them on. We will miss the Class of 2019, but they will be always be cherished members of The Herd!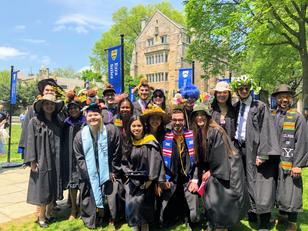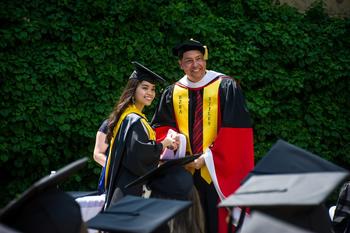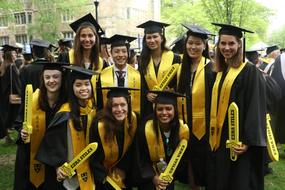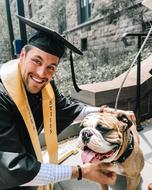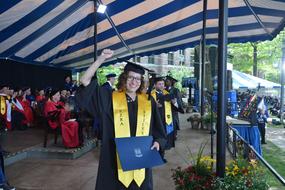 Video of Courtyard Commencement Ceremony Part I
Video of Courtyard Commencement Ceremony Part II
---
Senior Week Sidewalk Cafe 2019 - Moose Mischief Managed ~ 
For this Stiles Senior Week tradition, the Courtyard was transformed into scenes out of the world of Harry Potter. Our Seniors were feted with live thematic music, refreshments in the colors of the four Hogwarts houses, a feast worthy of the wizarding world, and many other magical touches.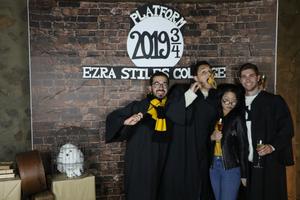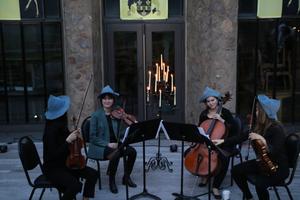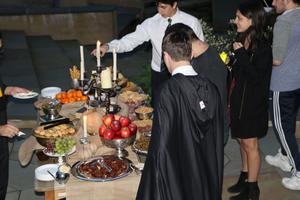 ---
Spring Pranks~
The residents of Morse College were surprised to find that their banners spelling out their college's name had been upgraded Wednesday. Looks like Ezra Stiles is gaining new annex housing!
---
Medieval (K)night 2019~
Stilesians from all corners of campus came together to don Viking helmets, wield their shields, and brave the elements to raid Silliman, Old Campus, and Bass Library! A royal feast with festive theatrical accompaniment awaited the conquering heroes. The youngest moose warriors were also formally inducted into the Order of the Moose.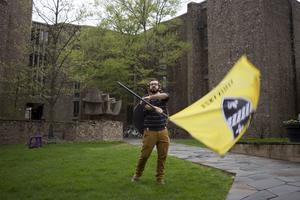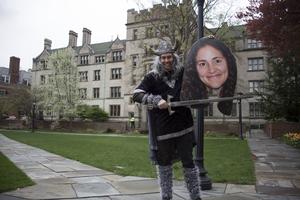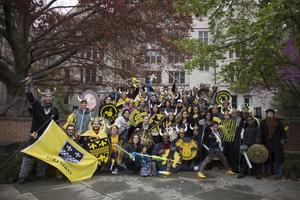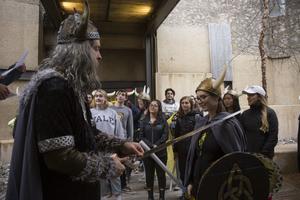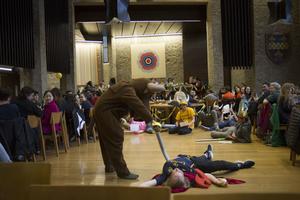 ---
Stiles Celebrates Achievements~
The weekend of April 6-8th Stiles first-years won the First-Year Olympics, and a Stiles-Trumbull team of chefs won third place in the Yale Final Cut undergraduate cooking competition. Congratulations to everyone involved!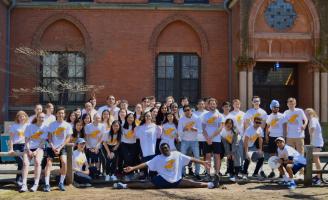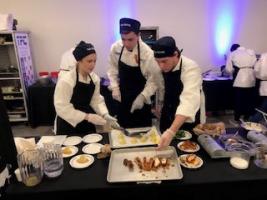 ---
Pub Night~
Every Sunday evening, the Dining Hall is open to Stilesians only for Family Night. This past weekend we celebrated Pub Night with typical British fare, music, and merriment!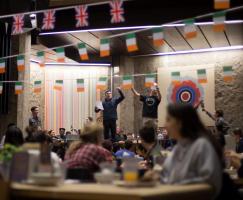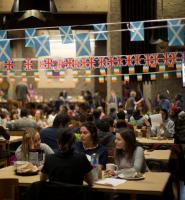 ---
Celebrating Arts Week~ 
Over the course of a week, Stiles students performed music, showed off their dance moves, and expressed their inner artists. Some notable events pictured below are the coffee-house open-mic night, the Ezra Stiles Film Fest, and Classical Brunch.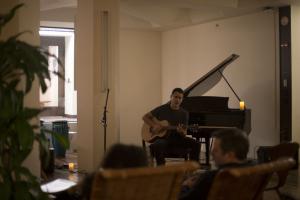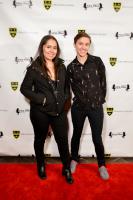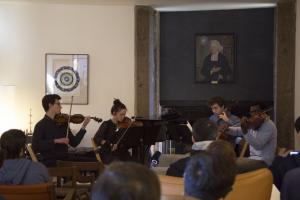 ---
Superbowl Celebration~
The dining hall was converted into a Superbowl watch party on Sunday, February 3rd. Rams and Patriots fans alike enjoyed the Snackstadium and shared good food with good company.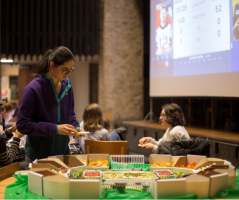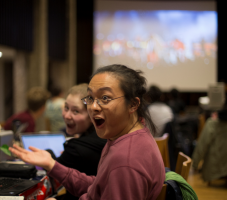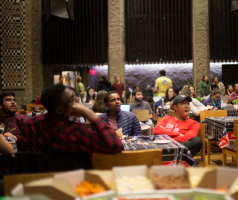 ---
Winter Stiles~
Stiles students celebrated the end of the year with hearty carols, festive study breaks, and good cheer as they hunkered down to study for their fall semester finals.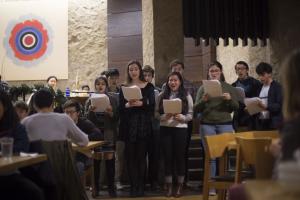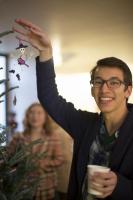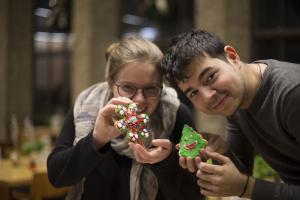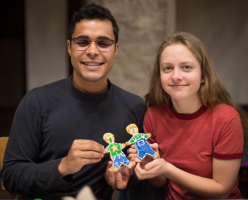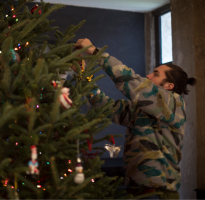 ---
Ezra Gala 2018~
The night was partied away in a festive evening of dancing, good food, and good friends at the Graduate Club.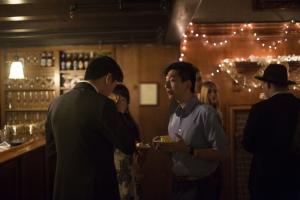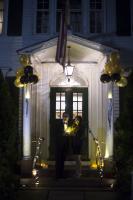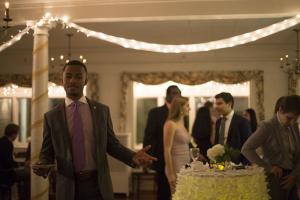 ---
Apple Picking~ 
Students piled into busses and explored Connecticut's apple orchards, chomping on and picking apples, in a quintessential New England fall activity.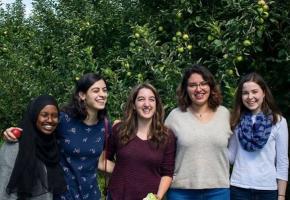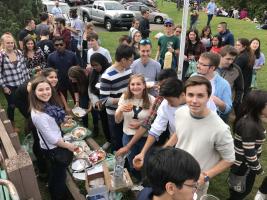 ---
Smore's Night~ 
The college celebrated the end of  summer with a smore's-roasting bonfire, taking advantage of the last, few warm evenings before fall sets in.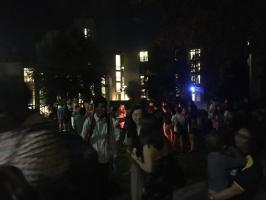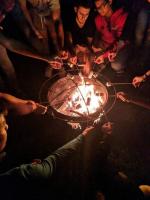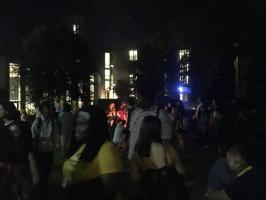 ---
Big-Little Sib Cookout 2018~ 
The first-year students took advantage of Stiles's green, grassy courtyard and got to meet some of their fellow Stilesians over juicy burgers and sweet, summer corn.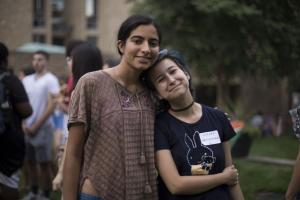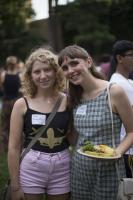 ---
First-Year Reception 2018~ 
After move-in, Head Pitti's house was opened up to the families of the newest members of the Moose Herd.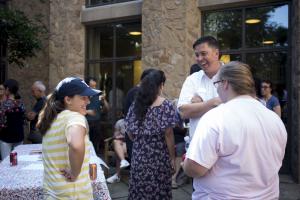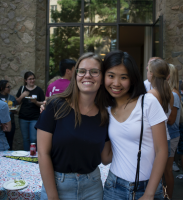 ---
First-Year Move-In 2018~ 
It was a hot, exciting day as the newest members of Ezra Stiles moved into their dorms and met their new roommates for the first time! Older Stiles students joined in on the fun, helping carry first-year's things into their dorms.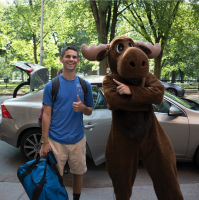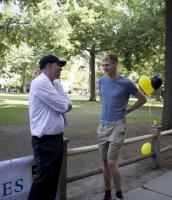 ---
Commencement 2018~ 
On May 21st, 115 Stiles seniors recieved their Yale diplomas in the college courtyard surrounded by family and friends. While we are sad to see them go, we know they are off to do great things.  Forever part of the Herd!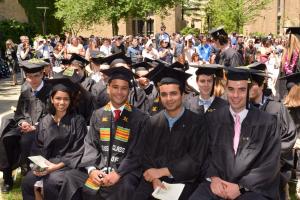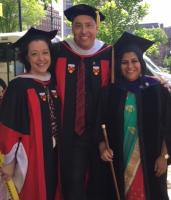 ---
Senior Week Sidewalk Cafe 2018, Paris! ~ 
For this Stiles Senior Week tradition, the Common Room was transformed into a Paris bistro and our Seniors enjoyed a fun evening of authentic French crepes, wine, and music in the company of classmates.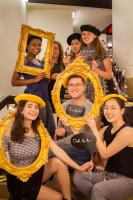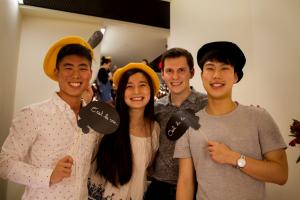 ---
Sushi Study Break 2018~ 
The Sushi Study Break featuring more sushi than any moose could possibly dream of, kicked off a week of study breaks to keep Stilesians happy and healthy during exams.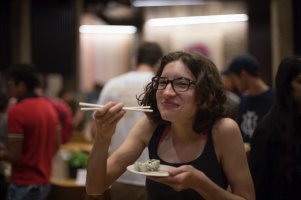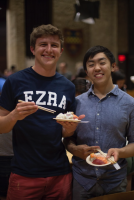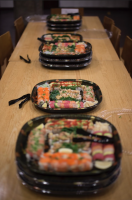 ---
Class of 2018 Senior Dinner~ 
On May 2nd we celebrated our graduating seniors with a reception and dinner in their honor. The night featured speeches by Head of College Pitti and Dean Parndigamage, toasts by seniors, an ceremony for annual college awards, and a slideshow from the past four years.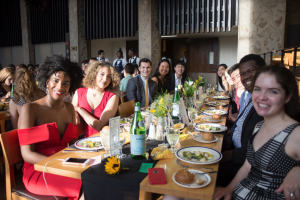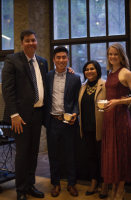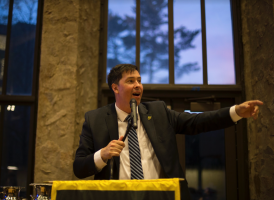 ---
Courtyard Easter Egg Hunt 2018~ 
On April 1st clever moose searched the college courtyard where hundreds of eggs full of chocolate, jelly beans, and a few April Fools jokes had been hidden.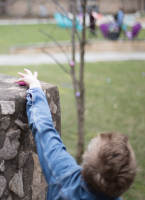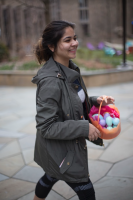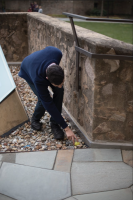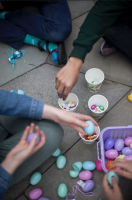 ---
The Ezra Stiles Film Festival 2018~ 
This February, thanks to several dedicated students and our incredible college staff, the Ezra Stiles Film Festival was brought back better than ever. The festival featured films by our talented Stilesians, as well as those by students in other residential colleges. Golden Moose trophies were awarded by an esteemed panel of judges, and everyone who attended went home with a swag bag far better than those given out at Hollywood award ceremonies.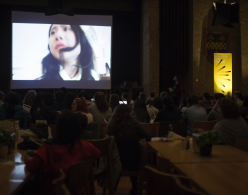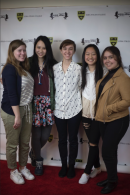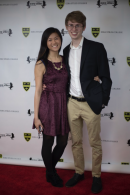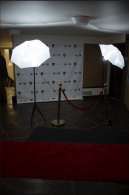 ---
Arts Week 2018~ 
Every year, the Ezra Stiles Arts Week Committee puts together a fabulous week of opportunities for Stilesians to explore their creative sides. This year featured a special student showcase in the Stiles Art Gallery, houseplant party, dance showcase, pet rock rumble, V-day card workshop, and more!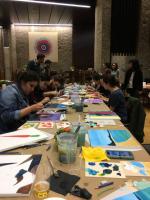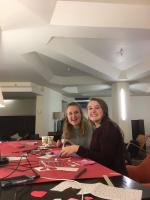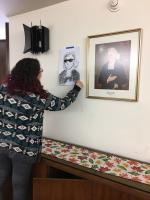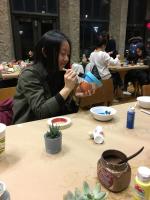 For more photos from past Ezra Stiles College events, please visit our Past Event Highlights page.