The Dean is the chief academic adviser to the 500 students assigned to Ezra Stiles College. Residing within the college, she helps in all matters concerning their academic programs, applies and enforces the Academic and Undergraduate Regulations that govern student behavior, works in conjunction with the Registrar's Office and the Yale College Dean's Office, oversees the first-year counselors, and supervises first-year advising.  The Dean is a great resource for a wide range of other matters and advises students on everything from personal crises to post-graduation plans. As needed, she refers students to resources, offices, or persons that can be of assistance to them. She teaches one course per year, writes letters of recommendation, serves on a range of University committees, and coordinates various college activities. In cases of incapacitating illness or family emergency, the Dean also has the authority to postpone deadlines for academic work or final exams.
The Ezra Stiles Dean's Office is located in Room 112 in Entryway C, just to the left after entering the front gate.
The Ezra Stiles Dean's Office is open Monday through Friday from 8:30am to 5pm during the academic year. To make an appointment to meet with the Dean, please call 203-432-0563.
---
Nilakshi Parndigamage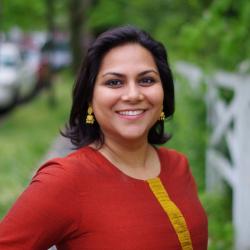 Nilakshi Parndigamage is the Dean of Ezra Stiles College and a lecturer in the Political Science Department. Born and raised in Colombo, Sri Lanka, she earned her Bachelor of Arts degree in Political Science from Yale University and her Juris Doctor degree from the University of Virginia School of Law.
Dean Parndigamage previously worked as a corporate litigator in New York and Washington, D.C. for a leading international commercial litigation firm. She was a member of several legal teams representing corporate clients in various breach-of-contract, fraud, products liability, qui tam, and securities cases. During her time at the firm, she also devoted significant time to pro bono litigation. She has been admitted to practice law in New York and the District of Columbia.
Prior to her career as a litigator, Dean Parndigamage conducted human rights research, advocacy, and public policy work in Washington, D.C., Baghdad, Cape Town, and the Hague. She has researched the prevalence of wartime sexual violence in the former Yugoslavia and has assisted in editing a handbook for Iraqi legislators on how to re-draft Iraqi legal codes to better protect Iraqi minorities. She is the recipient of numerous human rights fellowships and is currently a Senior Fellow of the Humanity in Action Human Rights Organization based in New York City.
As an undergraduate at Yale, she served as President of the Center for Buddhist Life at Yale, head tour guide and senior interviewer for the Yale Undergraduate Admissions Office, and coordinated the Yale tsunami relief effort.
Dean Parndigamage is an avid swimmer who loves to cook spicy Sri Lankan food, throw impromptu dance parties for her children, and stay up late into the night sculpting fondant figures for surprise cakes she bakes for friends and family.
She lives in the Dean's Residence at Ezra Stiles with her husband Patrick, three year old son Gihan, and newborn daughter Ayanthi. Patrick, who serves as an Ezra Stiles fellow and first-year adviser, is currently the Vice President for Research and Analysis at Middleburg Real Estate Partners. Patrick was previously the Research and Development Manager for the Center for Real Estate and Urban Analysis at George Washington University in Washington, D.C., where he co-authored several reports on the rise of walkable development in the United States.
Gihan is currently an expert in launching himself off household furniture and conducting experiments on their mostly-affectionate but sometimes-savage cat Machang ("dude" in Sinhala). Ayanthi is a world-class napper.
To make an appointment to meet with Dean Parndigamage (pronounced Parn-di-gah-mah-gay), please contact McKenzie Granata in the Dean's Office.
---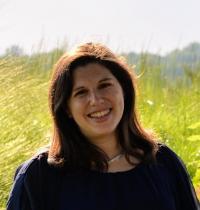 Dean's Senior Administrative Assistant
McKenzie Granata is the Senior Administrative Assistant to the Dean and, according to one FroCo, the largest collector of moose-themed decor south of the Adirondacks. McKenzie continues to work in her spare time as a freelance researcher, copywriter, and editor. A lover of nature and animals (including the majestic moose), McKenzie enjoys spending time outdoors with her two children and can be found taking nature walks, climbing, studying tidal pools, crashing local farms to pet the animals, and occasionally raiding the lesser colleges. Please contact McKenzie if you have academic questions, need academic forms, need a notary public, or wish to make an appointment to speak with the Dean. McKenzie is in room 111 in the College Office (Entryway C), and can be reached by phone at 203-432-0563 M-F 8:30–5:00.
---
Contact the Dean's Office
Phone: (203) 432-0563
Fax: (203) 432-1999
Mail
Ezra Stiles College Dean's Office
PO Box 208218
New Haven, CT 06520-8218
Courier
Ezra Stiles College Dean's Office
302 York Street
New Haven, CT 06511
Email
Dean: nilakshi.parndigamage@yale.edu
Dean's Senior Administrative Assistant: mckenzie.granata@yale.edu
---
More Information:
Academic Resources  | Dean's Excuses  | First Year Counselors  | Forms and Services  | Health and Wellness  |