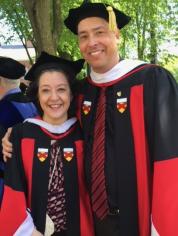 The Head of College acts as the chief administrative officer of the residential college and presides as a faculty presence. He sets the intellectual and cultural tone of the college, lives with his family alongside Ezra Stiles students, and eats many of his meals in the college dining hall. His responsibilities include the physical safety and well-being of resident students. He also oversees much of the college's social life, hosting study break, Teas, trips, and other events.
Swing by to ask for help, pick up a package, hear the opinions of wise Aides, engage in conversation, or borrow a Frisbee or basketball, or a board game, or a DVD (check out the DVD library!). You can also use the the fax machine (203-432-7930).
The office is open Monday thru Friday from 9:00am to 5:00pm.
Contact the office: phone: (203) 432-0560 / fax: (203) 432-7930 / email
Head of College Stephen Pitti
Head of College Stephen Pitti is Professor of History and American Studies, and Director of the Ethnicity, Race, and Migration Program, at Yale University.  President Levin appointed him Head of Ezra Stiles College in Spring 2008.  Professor Pitti graduated from Ezra Stiles College (ES '91), completed his PhD in History at Stanford University, and held a postdoctoral appointment at UC San Diego.  A specialist in the history of Latinos in the United States, the U.S.-Mexico Borderlands, immigration from Latin America, and civil rights struggles since World War II, he is the author of The Devil in Silicon Valley: Race, Mexican Americans, and Northern California (Princeton University Press, 2003).  He teaches courses on Latinos in the United States, on California history, on civil rights movements, and other topics.  He testified before the U.S. Congress in 2006 in favor of comprehensive immigration reform, was invited to the White House Forum on American Latino Heritage in October 2011, and is currently writing a biography of Cesar Chavez that explores the politics of farm labor, and of Latino civil rights, since the early-1950s.
Professor Pitti's Office Hours:
For appointments, stop by Kathy Dunn's office anytime between 9-5 or send her an email.
---
Associate Head of College Alicia Schmidt Camacho
Associate Head of College Alicia Schmidt Camacho is Professor of American Studies and Ethnicity, Race, and Migration at Yale University. She is the author of Migrant Imaginaries: Latino Cultural Politics in the US-Mexico Borderlands (NYU Press, 2008), winner of the American Studies Association's Lora Romero Prize, and articles about gender violence, migration, labor, and human rights in the Mexico-U.S. border region. Her current scholarship concerns human traffic and the criminalization of undocumented migration in the Americas. She serves on the board of Junta for Progressive Action, a community agency serving the Latina/o community of Fair Haven, and is a contributor to local and transnational projects for immigrant and human rights. She serves as the Associate Head of College of Ezra Stiles College.
When they're not racing through Ezra Stiles, Antonio and Thalia Pitti attend high school.  They can also be seen playing with their rambunctious black labs Aqua and Eero.
---
Phone: (203) 432-8091
Fax: (203) 432-7930
Kathy Dunn, Head of College's Senior Administrative Assistant
Phone: (203) 432-0560
Fax: (203) 432-7930
Kathy Dunn is the Head of College's Senior Administrative Assistant.  She joins Ezra Stiles after two years in the Yale Department of Music. Before joining Yale University she worked in non-profit consulting and in development for The Bushnell in Hartford.  A native of Cape Cod and graduate of Boston College, Kathy is a loyal Red Sox fan and feels most at home on the beach or on the water.  Kathy lives in horse country with her family, their chocolate lab Indy and cat Oreo. When not busy working in Stiles, Kathy is a busy mom of three. She spends most of her time driving, with lots of time cheering at games and performances and as much time volunteering in their schools as possible. Kathy also enjoys organic gardening, cooking, reading, yoga, theater and traveling.
---
A Look at the Head of College's Office
| | | |
| --- | --- | --- |
| Marc Levenson, Operations Manager | Kathy Dunn, Senior Administrative Assistant | Head of College Pitti with Stevie Wonder, Commencement 2017 |